Phone booth door closers have a wide range of applications in various settings, such as fitting rooms, meeting pods, and, of course, phone booth office pods. These closers serve an important purpose by keeping the doors slightly ajar, allowing users to easily determine if the space is occupied or available.
Case in Point
At Ross Dress For Less, a closed and securely latched fitting room door triggers an occupancy indicator, providing assurance to customers looking to use the facility. However, it is worth noting that in rare instances, this indicator may be misleading if there is no occupant present, which could potentially cause confusion for other customers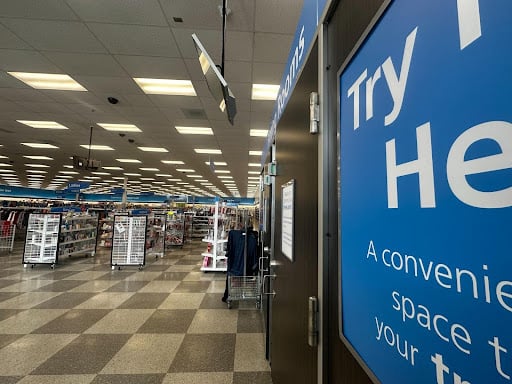 A Go-To Solution with Self-Closing Door Closers
Waterson self-closing door closers offer a solution to the problem by providing adjustable settings to close just before the latch point so that the users can prevent the occupancy indicator from being triggered. The latch speed control of our closers can easily be adjusted on holding commercial doors open at approximately 5°. This unique speed control design allows retailers like Ross to optimize the customer experience, ensuring optimal closure, productivity, and usage satisfaction.
Waterson Self-Closing Phone Booth Door Closers
Waterson Closer Hinges combine an overhead closer and hinge into one attractive component with optional hold-open and door-stop features. Waterson hinges are ideal for commercial openings, gates, and glass doors. These closer hinges are easily installed and adjusted to comply with ADA & ICC A117.1 requirements for opening force and to assure quiet, secure closing. Made with stainless steel, Waterson closer hinges meet NFPA 80 and are UL 3-hour fire-rated, as well as being suitable for both interior and all-weather exterior openings. See all our features. 
Request For Information
Recent Post
Driveway gates are pivotal in combining functionality and design aesthetics. The selection of hinges plays a crucial role, with options ranging from butt hinges to [...]
Garden gate hinges play a pivotal role in the functionality and longevity of garden gates. Exposed to varying weather conditions, these hinges must be robust [...]
Waterson commercial door hinges have become a self-closing device manufacturing leader in the meeting pod segment. Over the past few years, Waterson has provided closing [...]