Standard ANSI/BHMA A156.17-2014 establishes requirements for Self Closing Hinges & Pivots. In 5.3.1 cycle requirements, it clearly states different grades of single acting hinges. Although the spec says we should not use this test procedure as a guide for actual installations, it still provides valuable quality assurance for hinge standard.
| | |
| --- | --- |
| | Single Acting Hinges |
| *Cycles | Number |
| Grade 1 | 1,000,000 |
| Grade 2 | 500,000 |
| Grade 3 | 250,000 |
*Cycle requirement on BHMA A156.17 Standard
Waterson 3 in 1 Grade 1 Closer Hinges combine the functionality of 1) a door closer, 2) a heavy-duty hinge, and 3) an optional door hold-open. This is a money-saving product because it eliminates the expense of purchasing and installing an overhead door closer and hold-open plus all the extra costs associated with preparing a door and frame for overhead hardware devices.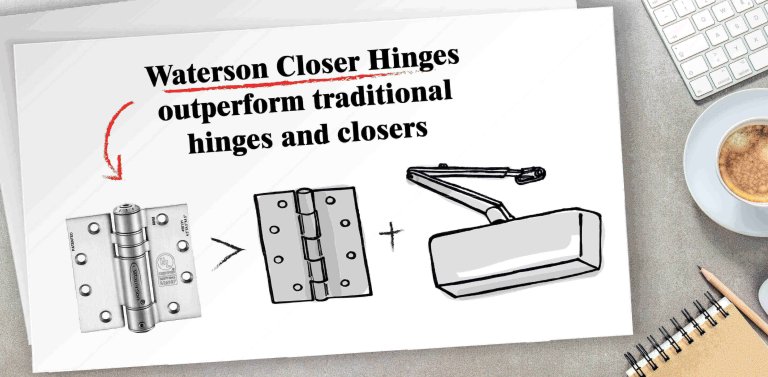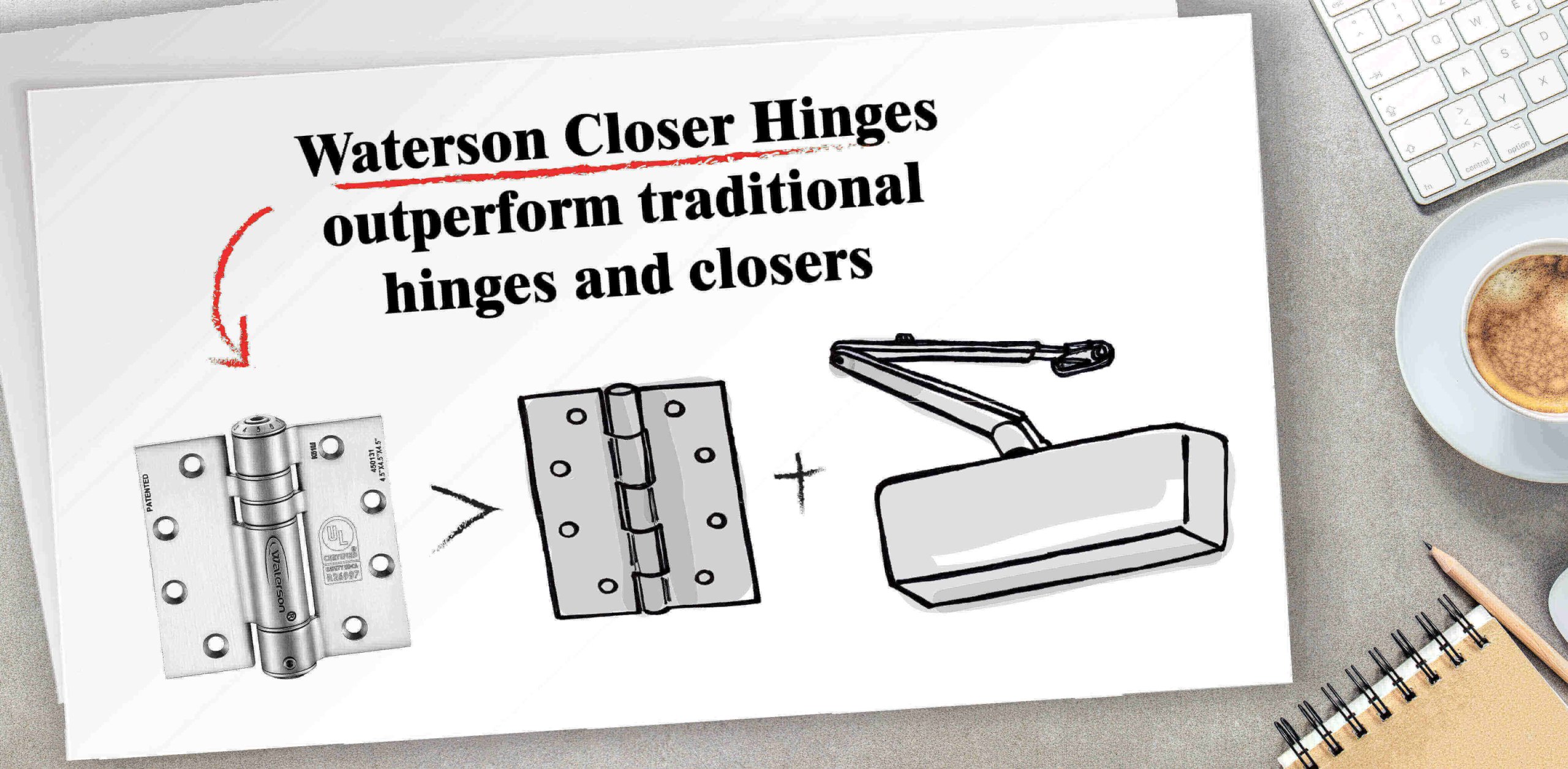 Waterson Closer Hinges also reduce ongoing maintenance costs. To assure long service life and dependability, they have been tested in accordance with ANSI/BHMA A156.17 to withstand over one million operating cycles (Grade 1). The patented hybrid mechanical-hydraulic action makes the Closer Hinges simple to adjust to open easily and to close securely and quietly. More, Waterson Closer Hinges are not subject to the abuse or damage that plagues the projecting arms of overhead closers.
Aside from saving money, Waterson 3 in 1 Closer Hinges provide these unique benefits to the door hardware industry.
Improve the aesthetics of doors by avoiding the need for unattractive overhead door closers and hold opens.
Can be used in locations that are incompatible with overhead closers.
Fit standard hinge templates for easy installation.
Are UL-listed for use on doors with up to three-hour fire resistance.
Are available in stainless steel or aluminum, plus a variety of finishes.
Are offered in sizes and configurations suitable for a wide range of wood and metal commercial and residential doors, glass doors, and gates.
Are fully adjustable to comply with ADA opening requirements and to close securely and quietly.
Request For Information
Recent Post
Gates, blending functionality and aesthetics, come in diverse designs. The square post and round post structures are common, but there are also other innovative gate [...]
In a factory setting, safety and functionality are on the choice of components. One critical selection is the gate hinge, a small but vital part [...]
Optimizing the performance of commercial spaces is crucial in ensuring customer satisfaction and success. In this regard, the adjustment of heavy-duty self-closing hinges plays a [...]