In the realm of architectural innovation, the essence of thoughtful design is often found in the most unexpected details, such as the functionality of a door closer. The door closer's backcheck function, which relies on valve hydraulic action, prevents slamming while closing the door, controls opening, and minimizes potential damage to the wall and nearby objects. It also allows for adjustable delayed action to help slow down the door's swing and add an extra layer of safety. Moreover, depending on the desired latch speed, adjustments on the closer body's counterclockwise or clockwise rotation allow for increased or decreased latch speed.
Stainless Steel Door Stoop
Unlike traditional door closers, Waterson, on the other hand, provides an integrated stainless steel door stop to achieve the same purpose as backcheck. This door stop is physically attached to the hinge barrel to stop the door at 85(o), making it both durable and highly effective.  You can easily install the door stop yourself at any time after purchase by simply adding the part.  However, if installed at the factory, we will fix it to the hinge with screws and weld it for greater durability. Factory welded is particularly useful for commercial applications like schools, hospitality, and hotels, to name a few.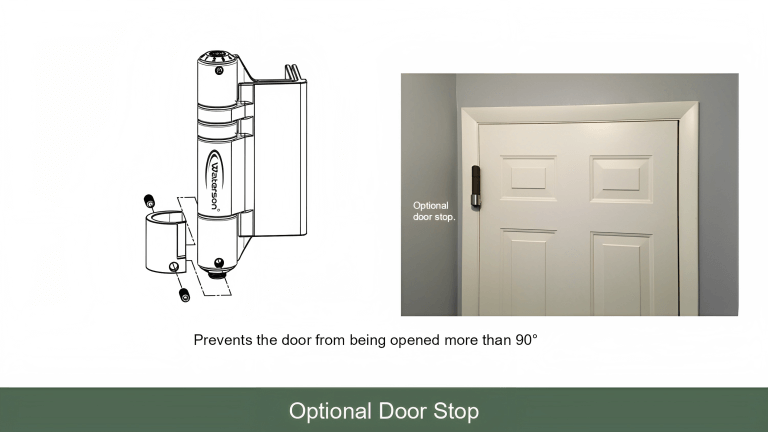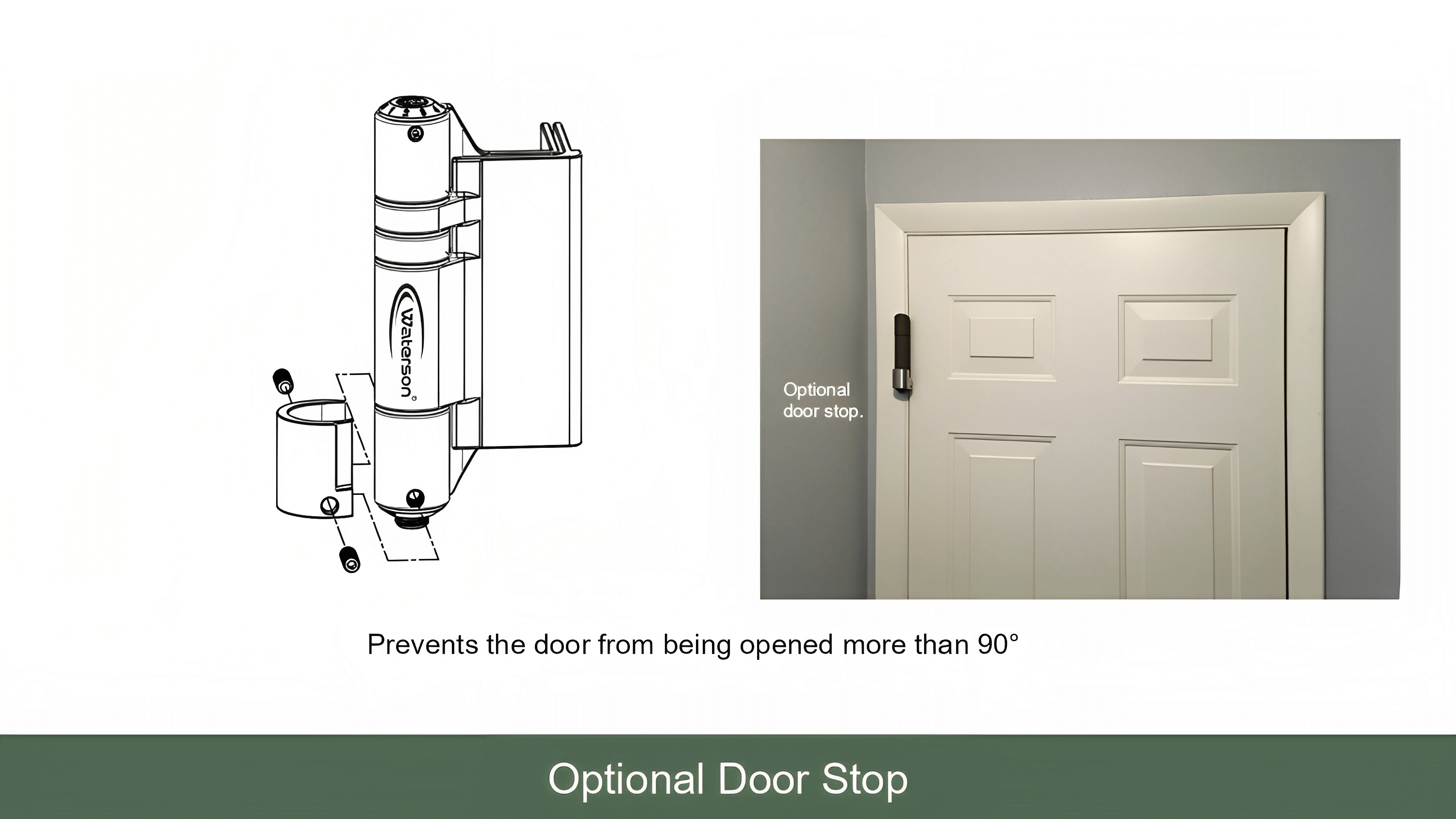 Heavy-duty & Low Maintenance
If some violent and unusual activities take place at a school, it is still possible that the screws attaching the hinge barrel to the door stops may come loose. However, the door stop is made of strong and durable stainless steel material and can be very hard to break. With minimal effort, you can easily replace the loose screws with appropriate ones and quickly resolve the issue.
Want to order Waterson Door Stop? Learn how to order.
Mechanical Waterson Door Closer Back Check
Waterson Closer Hinges combine an overhead closer and hinge into one attractive component with optional hold-open and door stop features. Waterson hinges are ideal for commercial openings, gates, and glass doors. These closer hinges are easily installed and adjusted to comply with ADA & ICC A117.1 requirements for opening force and to assure quiet, secure closing. Made with stainless steel, Waterson closer hinges meet NFPA 80 and are UL 3-hour fire-rated, as well as being suitable for both interior and all-weather exterior openings. See all our features.
Request For Information
Recent Post
Gates, blending functionality and aesthetics, come in diverse designs. The square post and round post structures are common, but there are also other innovative gate [...]
In a factory setting, safety and functionality are on the choice of components. One critical selection is the gate hinge, a small but vital part [...]
Optimizing the performance of commercial spaces is crucial in ensuring customer satisfaction and success. In this regard, the adjustment of heavy-duty self-closing hinges plays a [...]