Many businesses and organizations like banks, hotels, and courtrooms benefit from the quiet, soft closing double door closer hinges provided by Waterson Hinges. Loud noises and slamming doors can be quite disruptive in places like these. This is particularly true in places of worship where congregations enjoy peace with their spiritual. An unruly noise or rattle can be very unsettling during a solemn service.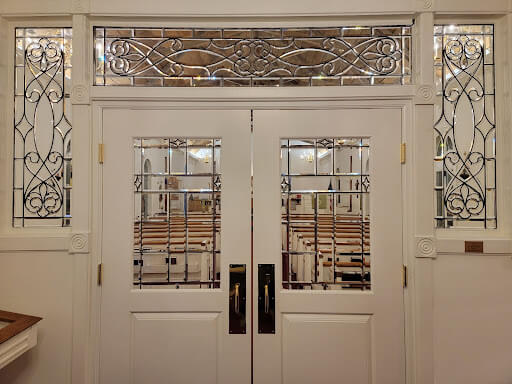 We recently communicated with the maintenance person of a US-based church regarding their door closing dilemma. Their entry doors were equipped with traditional spring hinges that tended to close rather abruptly and noisily, disrupting services and quiet moments. The boisterous slamming also caused rattling and damage to items adjacent to the doors. This maintenance individual reached out to us for assistance and a solution to this problem.
The Waterson Solution
We were pleased to provide this individual with assistance and door closing devices that would easily solve his problem. Designed with speed control and effective self-closing, Waterson hinges close smoothly and quietly every time. This ensures that the church's solemn services would not be disrupted by jarring door noises, which gives church members and visitors a more peaceful, serene environment in which to worship.
Compatible with Dated Templates
Waterson hinge follows the ANSI standard A156.7, which means that our hinges are compatible with most door designs. Older buildings like churches and historical sites may require different templates. This is not a problem. We can easily provide standard sizes and customized ones as needed. We simply need accurate measurements concerning the hinge size and pattern. Please see the following photo for key data points that we would request to process a customized order.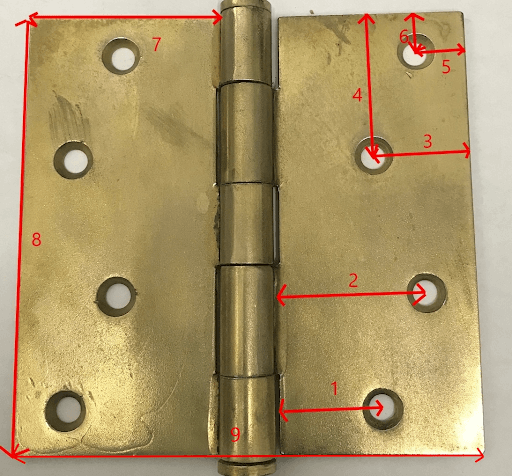 Elegant Design and Gold Finish
Waterson provides a variety of attractive finishes that compliment many designs. This church chose our physical vapor deposition satin brass finish to compliment their grand style. This finish, combined with our stainless steel barrel, provides a clean, elegant, and unobtrusive look that fits perfectly with the church's aesthetics.
While the church chose gold-colored hinges for their project, Waterson also provides a variety of aesthetically pleasing finishes on our stainless steel closer hinges. These include Satin Brushed (US32D-630), Matte Black (USL1-631*), Dark Bronze (US10B-640), Satin Brass (PVD US15-619), and our newest finish, Satin Bronze (PVD US10). These are elegant and attractive finishes that are suitable for any spiritual, commercial or residential establishments and are highly regarded by architects, interior designers, and hotel owners, to name a few.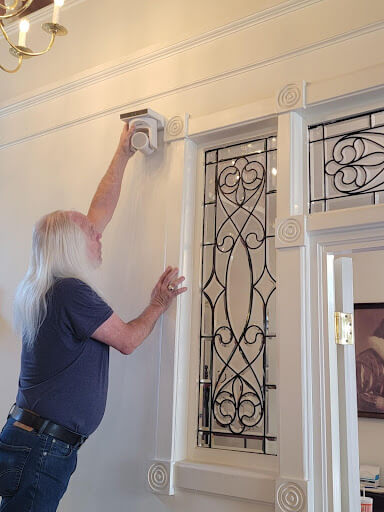 Waterson Door Closer Hinges
Waterson Closer Hinges combine an overhead closer and hinge into one attractive component with optional hold-open and door stop features. Waterson hinges are ideal for commercial openings, gates, and glass doors. These closer hinges are easily installed and adjusted to comply with ADA & ICC A117.1 requirements for opening force and to assure quiet, secure closing. Made with stainless steel, Waterson closer hinges meet NFPA 80 and are UL 3-hour fire-rated, as well as being suitable for both interior and all-weather exterior openings. See all our features.
Request For Information
Recent Post
Gates, blending functionality and aesthetics, come in diverse designs. The square post and round post structures are common, but there are also other innovative gate [...]
In a factory setting, safety and functionality are on the choice of components. One critical selection is the gate hinge, a small but vital part [...]
Optimizing the performance of commercial spaces is crucial in ensuring customer satisfaction and success. In this regard, the adjustment of heavy-duty self-closing hinges plays a [...]