Door hardware is the building accessory that can lift your overall entryway aesthetic to new heights. Often builders and consumers choose oil rubbed bronze hinges, door knobs and locks to more closely match their wooden finish. However, while it's difficult to find a perfect bronze match due to lack of a clearly defined BHMA A156.18 standard on materials and finishes, most manufacturers will simply create their own standard.
A GOOD MATCH

Combined with the Waterson Hinge stainless steel body, our US10B Dark Satin Bronze color closely matches the oil rubbed bronze finish generally offered by most manufacturers.  At the same time, the Waterson US10B appearance compliments wood features quite well.  However, for those who are leary of imperfect bronze matching across a variety of hardware, Waterson also offers an elegant black finish that matches well and doesn't jeopardize the overall aesthetic.
CHOOSE FROM FIVE ELEGANT FINISHES
Depending on your project, Waterson has the solution for your design and style needs.  Choose from satin brass, bronze, satin brushed, flat black or white to match your door appearance.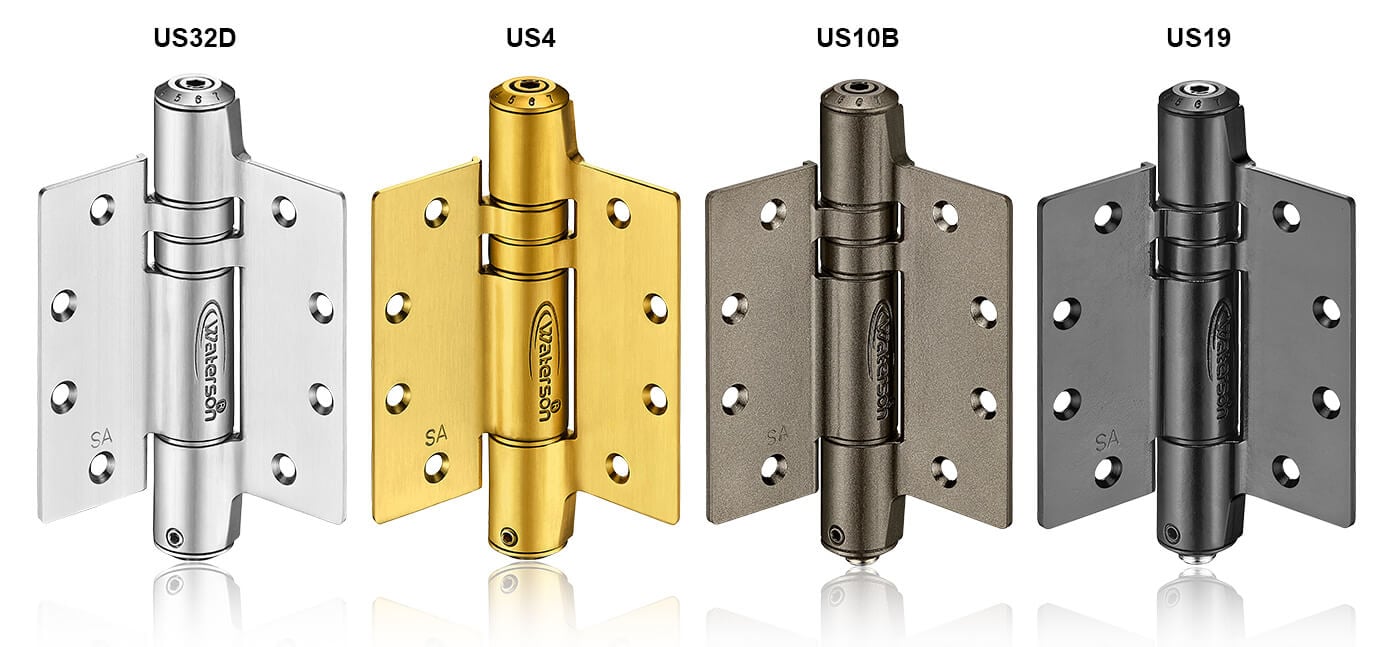 Waterson Closer Hinges combine an overhead closer and hinge into one attractive component with optional hold open and door stop features.  Waterson hinges are ideal for commercial openings, gates, and glass doors.  These closer hinges are easily installed and adjusted to comply with ADA & ICC A117.1 requirements for opening force and to assure quiet, secure closing.  Made with stainless steel, Waterson closer hinges meet NFPA 80 and are UL 3-hour fire-rated, as well as being suitable for both interior and all-weather exterior openings. See all our features.
Share This Story, Choose Your Platform!
According to the US National Safety Council, over 300,000 door-related injuries that require emergency room visits occur annually. Many of these injuries, often involving children, [...]
The floor pivot hinge may be small, but it plays a big part in how doors in shops and offices work. Often used in busy [...]
Spec writers are frequently challenged to locate fire-rated self-closing door hardware that's suitable for their projects. To assist, NFPA 80 provides Table 6.4.3.1, which lists [...]