More and more commercial establishments are replacing their spring hinges with Waterson door closers to minimize installation and maintenance expense. Waterson hinges are proven to be a durable and reliable self-closing option for hospitality, public buildings, and more. Read below to discover the five reasons that make Waterson such a good door closer solution.
1. Reliable Closing Force
Due to heavy latches and climate-controlling door seal systems, frequently-used commercial entries require strong and reliable self-closing hardware. However, door seals generally require additional closing power that conventional spring hinges can't consistently provide over time. Waterson hinges, on the other hand, are crafted and proven by one million cycle tests to reliably support up to 400lb doors.
2. Precision Adjustment
Traditional spring hinges are easy to adjust when first installed, however, future adjustments can be a little complicated. Without a clear tension indicator, setting traditional hinges relies on feeling and a bit of guesswork. Waterson hinges, in contrast, are designed with a highly useful and easy to fine-tune numerical adjustment panel that allows users to adjust to the precise closing force.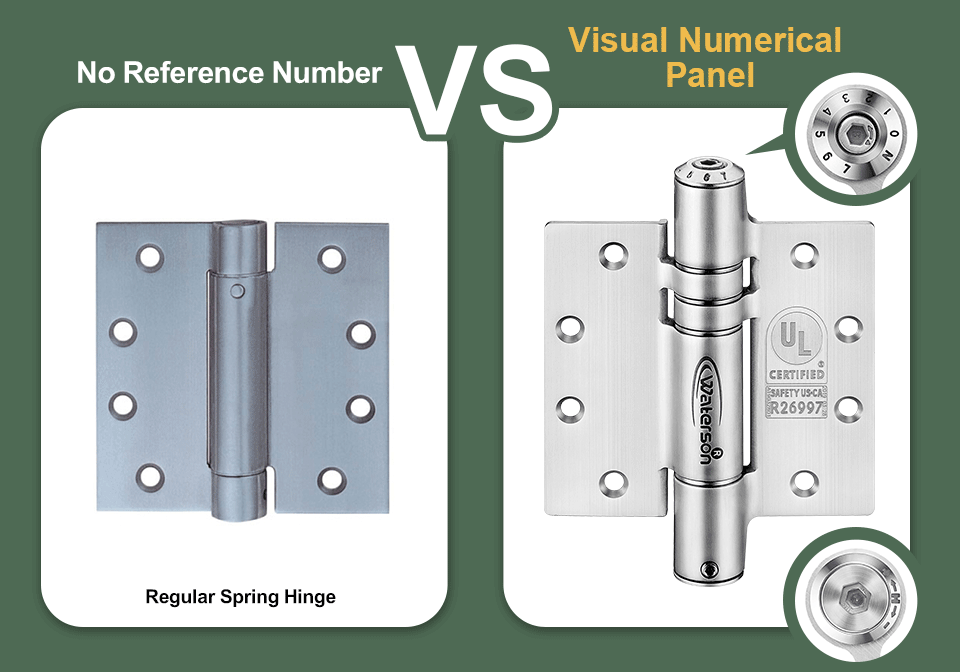 3. Anti-slam Speed Control
Waterson door closer hinges are designed with a state of the art speed control function that allows users to precisely adjust door movement speed. In addition, Waterson hinges include an easily adjustable closing force that can match various door masses. This design works in cooperation with an anti-slamming speed control mechanism, which ensures that your doors will close smoothly at the desired swing speed.
4. Reduce Installation & Maintenance Costs
An experienced installer himself could replace the old spring hinges with Waterson self-closing door hinges for 12-15 doors per day. This includes – remove the old spring hinge, install the Waterson hinge, and work on speed adjustment. After one year after installation, Waterson Hinges worked great and only less than five rooms out of 800 needed slight adjustment. This greatly reduced the maintenance workload.
With Waterson closer hinges, you can open heavily-weighted doors with as little as 5lbs of force. Where traditional door closers generate much resistance upon opening, Waterson hinged doors open effortlessly making them particularly suitable for high traffic commercial doors and senior communities.
Waterson Closer Hinge Systems combine door closers, spring hinges, and an optional hold open feature into one attractive & unobtrusive component. Our closer hinges are easily adjustable to comply with ADA & ICC A117.1 requirements for opening force and to assure quiet, secure closing. Made with stainless steel, Waterson closer hinges meet NFPA 80 and are UL 3-hour fire-rated, as well as suitable for both interior and all-weather exterior openings.
Share This Story, Choose Your Platform!