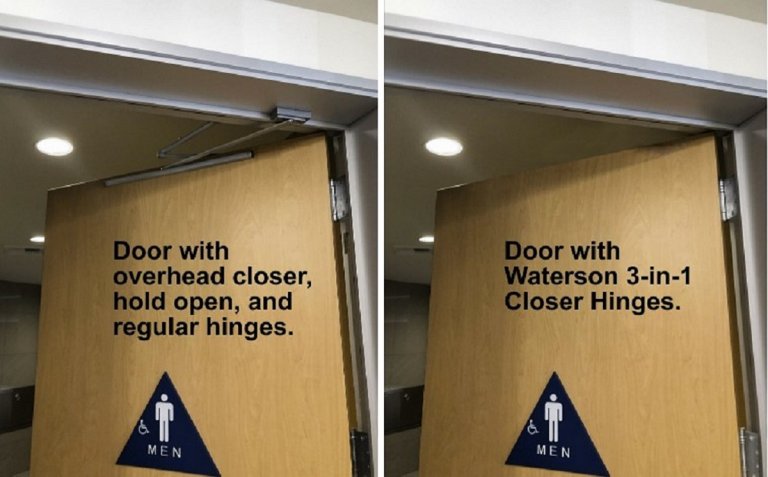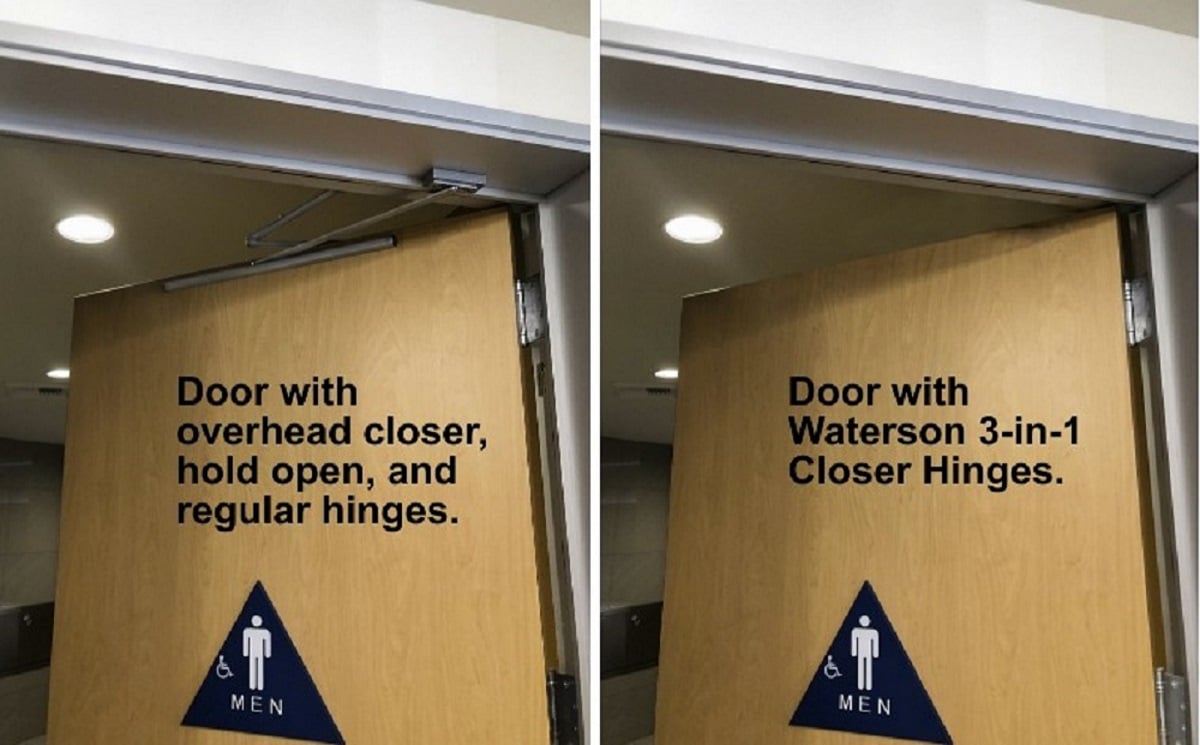 Choosing the right door closer for high-end bathroom applications depends largely on utility and aesthetics. According to ADA 604.8.2 Ambulatory Accessible Compartments, restroom compartment doors shall be self-closing. Pivot hinges generally aren't suitable for stall doors due to toe clearance code, while continuous hinges pose installation cost and service problems. At the same time, unsightly door closers can ruin the look of a well-designed space.
Retrofit Friendly Sleek Style
Waterson Closer Hinges are a great option because they can easily be set to meet 9 – 12" clearance requirements, thus making them an ideal replacement option for complicated continuous hinges and traditional closing mechanisms. With Waterson, you can achieve self-closing functionality by simply installing three closer hinges. At the same time, crafted with sleek stainless steel Waterson Closer Hinges compliment any interior style.
Additionally, Waterson hinges satisfy strict ADA requirements for force and speed, making them ideal for high-end commercial bathrooms. Furthermore, our hinges can be used either in or out-swing, which can be helpful in tight spaces.
Read more about The Ultimate ADA Compliant Door Solution
Waterson Closer Hinge System
Waterson Closer Hinge Systems combine door closers, spring hinges, and an optional hold open feature into one attractive & unobtrusive component that is ideal for commercial swing, gate, and glass doors. Our closer hinges are easily adjustable to comply with ADA & ICC A117.1 requirements for opening force and to assure quiet, secure closing. Made with stainless steel, Waterson closer hinges meet NFPA 80 and are UL 3-hour fire-rated, as well as suitable for both interior and all-weather exterior openings.
Request For Information
Recent Post
According to the US National Safety Council, over 300,000 door-related injuries that require emergency room visits occur annually. Many of these injuries, often involving children, [...]
The floor pivot hinge may be small, but it plays a big part in how doors in shops and offices work. Often used in busy [...]
Spec writers are frequently challenged to locate fire-rated self-closing door hardware that's suitable for their projects. To assist, NFPA 80 provides Table 6.4.3.1, which lists [...]