An overhead stop is a type of door stop that is mounted at the top of a door. It can be surface-mounted to the face of the door or concealed in the head of the door. They can operate effectively by sliding along a track or rod and stopping when it reaches the end of the track. The overhead holder and stop are generally out of the way, while floor or wall-mounted stops can be a stumbling hazard and are vulnerable to damage.
While the overhead door stop can be effective, choosing the correct size can be complicated. For example, some overhead door stop makers provide as many as 32 specification pages related to size requirements. Additionally, they tend to lead to installation issues, high costs, compatibility problems, and maintenance challenges.
A New Type Of Overhead Door Stop
Waterson Closer Hinges, on the other hand, provide a highly effective and fully integrated door stopping mechanism that easily sidesteps the problems associated with typical overhead door stops. Waterson hinges combine self-closing, hold open and door stop features into a sleek stainless steel device that is far superior and cost-effective than overhead door stops.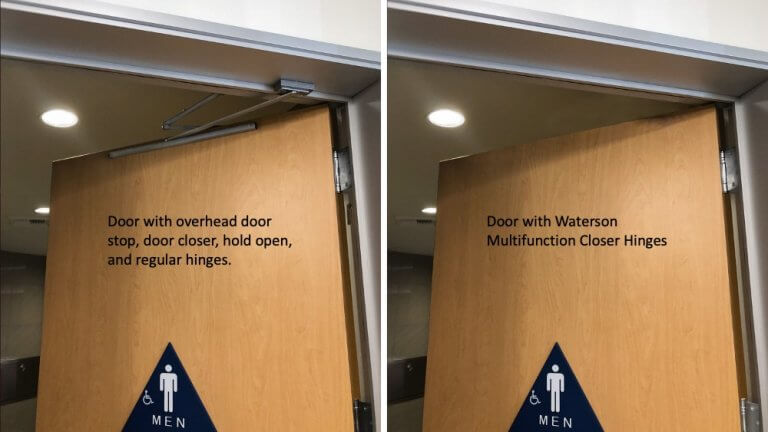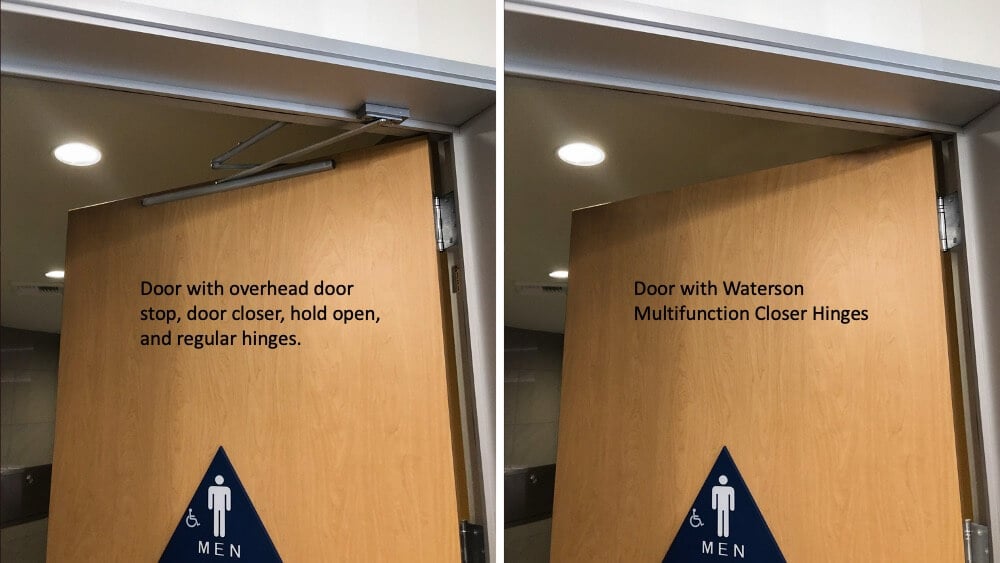 Waterson Combines Hold Open
The hold-open feature stops doors in place exclusively at 90 degrees. When you open doors with Waterson hinges to 90 degrees they will stay at that position without moving. Doors are free to move beyond 90 degrees, however once passed perpendicular, they will self-close.
Read More: Door Stop and Hold Open Features On The Same Hinge
Fully Integrated Door Stop Hinge
Sometimes you need to stop your door at a particular angle; perhaps you don't want your door handle to hit the wall, an adjacent door, or the like. Whatever your reason, Waterson has you covered. Waterrson door stops are unobtrusive and aesthetically pleasing, as the highly effective door stopping mechanism is discreetly attached. Thus, there are no extraneous parts on the floor, door or wall.
Multifunction Closer Hinges
Waterson Closer Hinges combine an overhead closer and hinge into one attractive component with optional hold open and door stop features. Waterson hinges are ideal for commercial openings, gates, and glass doors. These closer hinges are easily installed and adjusted to comply with ADA & ICC A117.1 requirements for opening force and to assure quiet, secure closing. Made with stainless steel, Waterson closer hinges meet NFPA 80 and are UL 3-hour fire-rated, as well as being suitable for both interior and all-weather exterior openings. See all our features.
Request For Information
Recent Post
The efficiency and security of any outdoor gate hinge largely on one often overlooked component: the outdoor gate closer. Constructed from robust materials like stainless [...]
In the United States, residential garage fires are alarmingly common, with approximately 6,600 incidents annually, leading to 30 fatalities, over 400 injuries, and property losses [...]
Black gate hinges are more than just functional components; they are a style statement for homes and businesses alike. These hinges not only provide essential [...]