Door-stop and Hold-open features are incredibly beneficial in a variety of situations.  A door stop is a useful feature in preventing doors from opening too far and damaging walls.  On the other hand, Hold open is especially useful in high-traffic commercial environments where an open door is needed.  While the two features share an invisible stopping function, they are actually quite different.
Door Stop On Hinge
Sometimes, you need to stop your door at a particular angle; perhaps you don't want your door handle to hit the wall, an adjacent door, or the like. At the same time, according to the ADA standard 404.2.3 Clear Width, door openings shall provide a minimum 32". Waterson closer hinges provide a stopping function at both 90 and 120 degrees in order to satisfy the ADA code and prevent wall damage. Plus, you no longer need to use an unsightly wall-mounted door stops. You can review the invisible door stopper design for more information about door stop on hinge.
To learn more about the ADA Code door clearance code, please review the  7 innovative features for more details.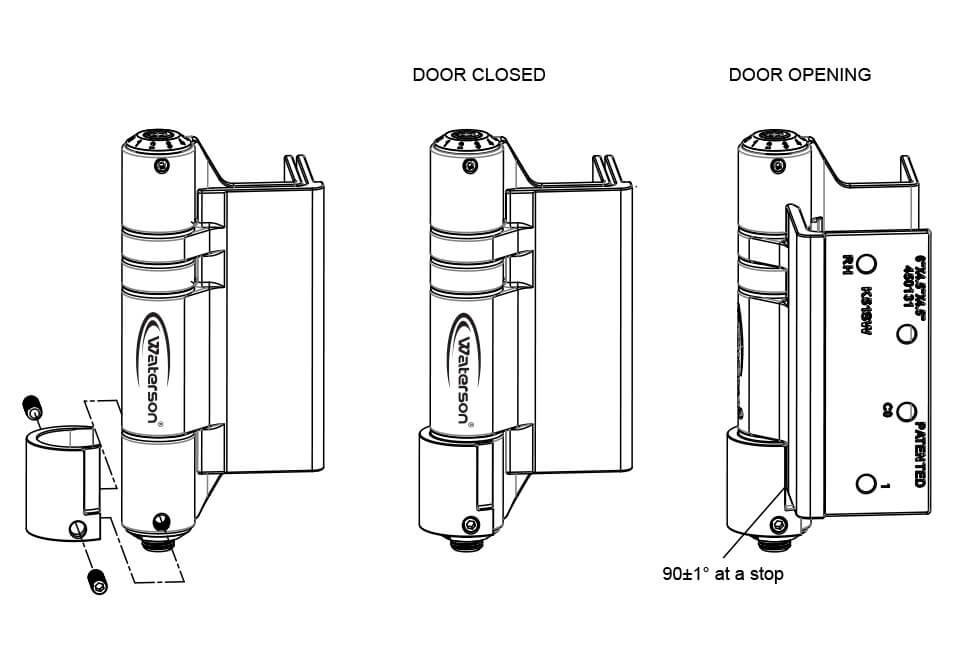 Hold Open
The hold-open feature stops doors in place exclusively at 85-90 degrees. When you open doors with Waterson hinges to 90 degrees, they will stay in that position without moving. Doors are free to move beyond 85-90 degrees. However, once passed perpendicular, they will self-close. Doors will not stop again at 90 degrees while in a closing motion. Important: hold open is not suitable for fire-rated doors.
What is a Waterson hinge's maximum opening degree?
Waterson hinges perform best in a swing zone from 0˚ to 120˚. Whereas our hydraulic hybrid hinge open limit is 120˚, the mechanical can be opened beyond 120˚up to 180˚. We do not suggest keeping mechanical over 120˚ for long periods of time; frequently extending beyond 120˚ may damage the mechanism and decrease its lifespan. Please note that excessive use over 120˚will not be covered by warranty.
That said, our hold open and door stop functions provide for slightly different maximum open positions. With hold open, you can open your doors as much as 180 degrees, while with door stop installed, the door can open to 90 or 120, depending on the door stop type that you are using.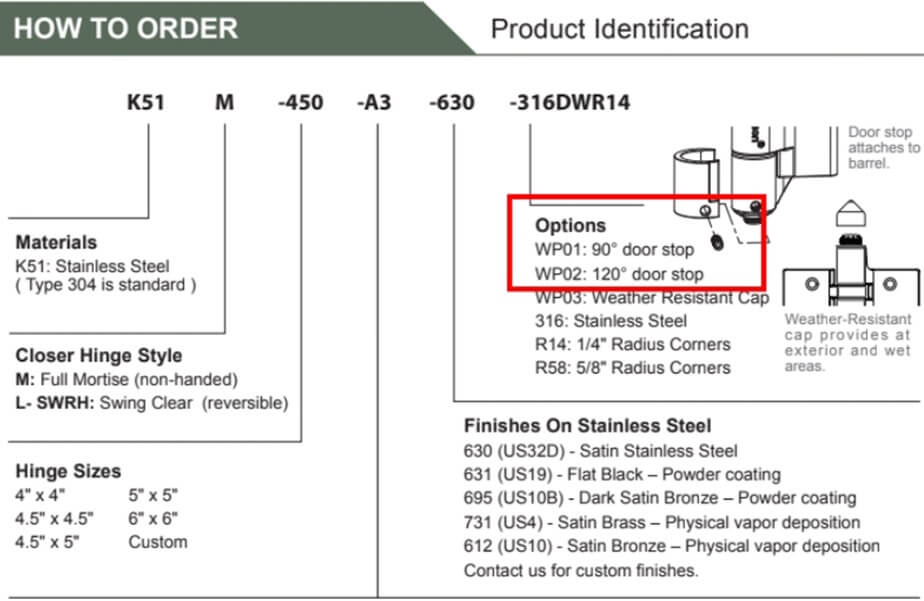 Request A Sample Today!
When most industry people think about Waterson hinges, they think about commercial projects due to Waterson's well-known durability. While this is certainly true, Waterson also [...]
Door-stop and Hold-open features are incredibly beneficial in a variety of situations.  A door stop is a useful feature in preventing doors from opening too [...]
What is a Waterson Garage Door Closer Hinge? The hinges are some of the important parts of any garage door. They keep the garage [...]