Door-stop and Hold-open features offer valuable benefits in various situations. A door stop prevents damage to walls by limiting door opening, while Hold-open is ideal for high-traffic commercial environments. Though sharing a hidden stopping function, these features differ significantly. The products offer practical solutions for enhancing door functionality and improving safety in both residential and public settings.
Door Stop On Hinge
Sometimes, you need to stop your door at a particular angle; perhaps you don't want your door handle to hit the wall, an adjacent door, or the like. At the same time, according to the ADA standard 404.2.3 Clear Width, door openings shall provide a minimum 32". Waterson closer hinges provide a stopping function at both 90 and 120 degrees in order to satisfy the ADA code and prevent wall damage. Plus, you no longer need to use unsightly wall-mounted door stops. You can review the invisible door stopper design for more information about door stop on hinge.
To learn more about the ADA Code door clearance code, please review the 7 innovative features for more details.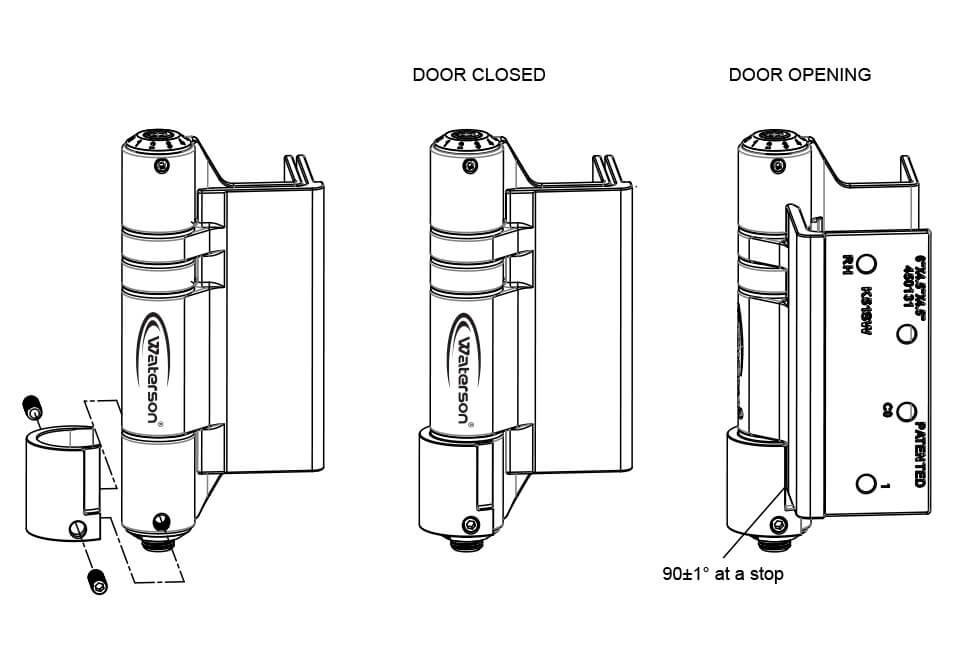 Hold Open
Waterson hinges provide exceptional functionality, including a reliable hold-open feature that effectively stops doors at 85-90 degrees. By opening the doors to a 90-degree angle, they remain securely positioned without any movement. It's important to be aware that while the doors have the freedom to open beyond the 85-90 degree range, they will automatically self-close once they surpass the perpendicular position. It is crucial to note that the hold-open feature is not suitable for fire-rated doors due to specific safety regulations.
Lever Option
The lever option of Waterson hinges adds an extra layer of convenience for users. This product allows users to open doors with ease, providing a more comfortable and accessible experience. With the added leverage from the lever, you can effortlessly control the opening and closing motion of your door without any strain or effort.
What is a Waterson hinge's maximum opening degree?
Waterson hinges perform best in a swing zone from 0˚ to 120˚. Whereas our hydraulic hybrid hinge open limit is 120˚, the machine can be opened beyond 120˚up up to 180˚. We do not suggest keeping mechanical over 120˚ for long periods of time; frequently extending beyond 120˚ may damage the mechanism and decrease its lifespan. Please note that excessive use over 120˚will not be covered by warranty.
That said, our hold open and door stop functions provide for slightly different maximum open positions. Withhold open, you can open your doors as much as 180 degrees, while with door stop installed, the door can open to 90 or 120, depending on the door stop type that you are using.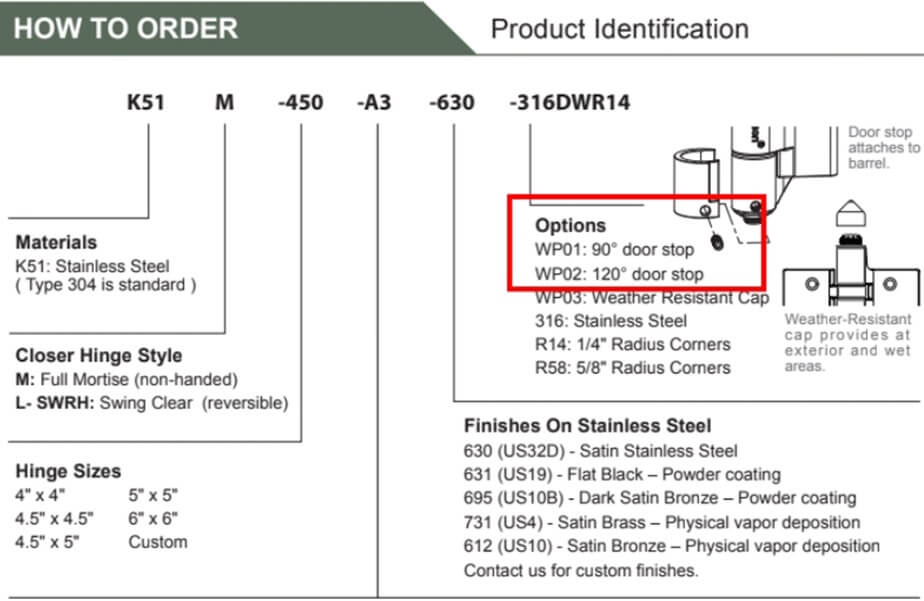 Request For Information
Recent Post
Double doors are commonly used in various places, such as commercial buildings, schools, hospitals, and large public spaces. These door closers are often used to [...]
Gates, blending functionality and aesthetics, come in diverse designs. The square post and round post structures are common, but there are also other innovative gate [...]
In a factory setting, safety and functionality are on the choice of components. One critical selection is the gate hinge, a small but vital part [...]