Modern commercial restroom compartments are commonly constructed using cost-effective, easy-to-install, and fire-resistant drywall material. However, the installation of bathroom stall doors equipped with spring hinges that tend to slam can result in detrimental effects on the drywall. Slamming doors generate intense vibrations that shake the entire compartment, potentially causing loosened drywall, damaged strikes on the frame, and compromised latches on the lock. Beyond the risk of drywall damage, it is crucial to consider other factors such as surface-mounted hinge sets, chrome-plated options, ADA hinge sets, and compliance with commercial restroom standards. These considerations ensure the longevity and functionality of bathroom partition doors, meeting both ADA bathroom requirements and the needs of commercial restroom environments.
Reasons to Consider Self-Closing Bathroom Stall Door Hinges
When considering self-closing bathroom stall door hinges, several reasons come to light. First, privacy is crucial, especially when a restroom door fails to close automatically, potentially compromising individuals' privacy. Additionally, compliance with regulations, particularly in commercial and public buildings, may require self-closing doors. Moreover, self-closing hinges benefit accessibility, allowing individuals with disabilities to effortlessly operate ADA-compliant doors without manually closing them. For optimal performance, consider using partition hinges, thick door surface-mounted hinge sets, toilet partition hinges, chrome-plated cast stainless steel door inserts, and clear anodized steel upper and lower pivot hinges within your bathroom partition and restroom stall.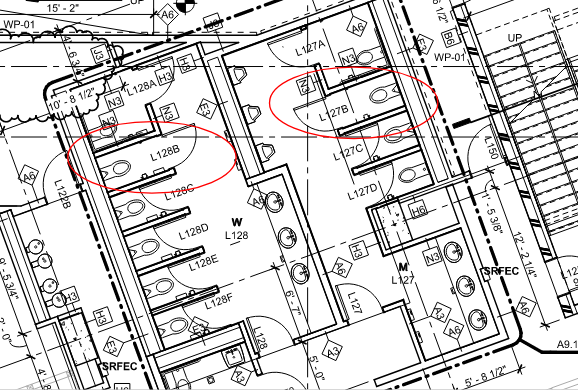 Waterson ADA Soft-closing Bathroom Solution
Waterson's heavy-duty stainless steel self-closing hinges are the ideal choice for commercial bathroom compartments that experience high traffic. Designed to meet ADA bathroom door requirements, these self-closing partition door hinges offer a significant advantage over traditional spring hinges by eliminating slamming. With the ability to accommodate typical bathroom stall doors measuring 34″ wide and 1 ¾" thick, these hinges provide a theoretical clearance of 32 ¼", ensuring compliance with speed control ensures more than 32″ ADA code requirements. Moreover, Waterson effectively incorporates useful functions that enable a 5-pound opening force and a closing speed of five seconds. With their internal speed control mechanism, Waterson hinges to ensure smooth and quiet door closure, preserving privacy and complying with ADA regulations.
Waterson Heavy Duty Bathroom Stall Door Hinges
Waterson Closer Hinges combine an overhead closer and hinge into one attractive component with optional hold-open and door-stop features. Waterson hinges are ideal for commercial openings, gates, and glass doors. These closer hinges are easily installed and adjusted to comply with ADA & ICC A117.1 requirements for opening force and to assure quiet, secure closing. Made with stainless steel, Waterson closer hinges meet NFPA 80 and are UL 3-hour fire-rated, as well as being suitable for both interior and all-weather exterior openings. See all our features.
Request For Information
Recent Post
The efficiency and security of any outdoor gate hinge largely on one often overlooked component: the outdoor gate closer. Constructed from robust materials like stainless [...]
In the United States, residential garage fires are alarmingly common, with approximately 6,600 incidents annually, leading to 30 fatalities, over 400 injuries, and property losses [...]
Black gate hinges are more than just functional components; they are a style statement for homes and businesses alike. These hinges not only provide essential [...]