More and more commercial buildings like schools are designing privacy-centric restrooms to accommodate the needs of male, female, and transgender individuals. These spaces include an enclosed, floor-to-ceiling glass toilet partition, and co-gender bathroom, which aims to achieve optimal privacy. The restroom glass stalls are sleekly designed, as well as easy to clean and maintain.
THE CLOSER HINGE SOLUTION
Closer hinges are the best self-closing hardware solution for floor-to-ceiling stalls. Traditional floor closers aren't suitable in restrooms because they would be adversely affected by moisture and dampness. Traditional spring hinges are similarly not suitable for these spaces due to hazardous slamming. Waterson Closer Hinges, on the other hand, are an ideal solution for these modern restroom spaces. Designed with durable and aesthetically pleasing stainless steel, every Waterson hinge is equipped with effective self-closing and speed-control functionality. These useful functions help Waterson achieve ADA 5 lbs opening force and five seconds closing speed code requirements.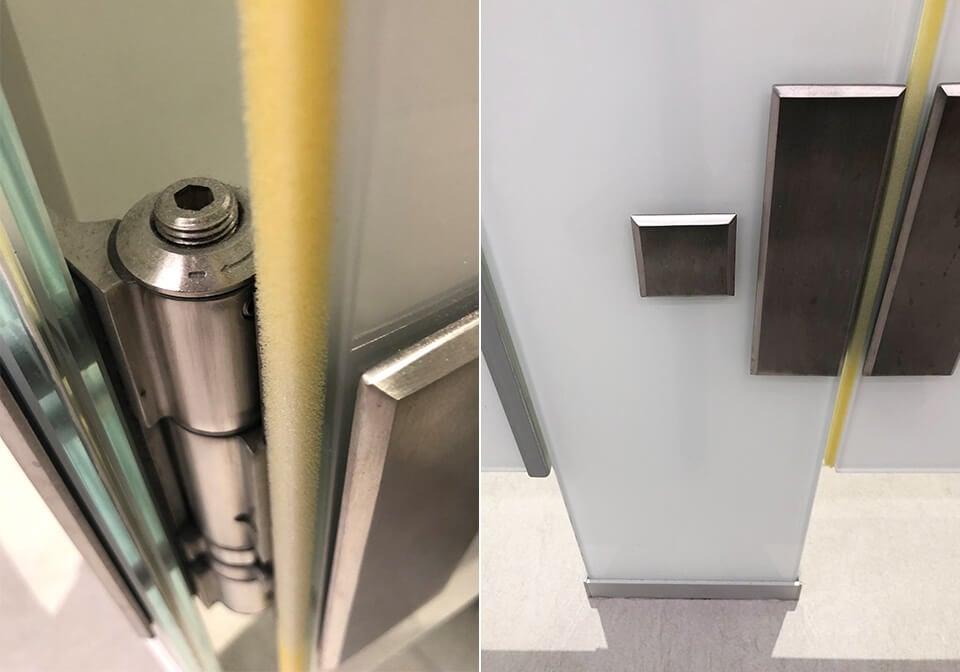 "We selected Waterson Closer Hinge to achieve our architect's design, which involved constructing toilet partitions made of 11.52mm (just under ½ an inch) toughened laminated glass," says Tony, director from a toilet partition manufacturer. The doors are 76 inches long x 29 inches wide.
Read more cases related to glass-to-glass self-closing doors.
Aesthetically-Pleasing & Easily Installed
Choose Waterson Commercial Glass Door Closer Hinges for all of your frameless entry needs. An attractive, innovative, and heavy duty closing solution, Waterson closer hinges provide a clean and modern appearance by eliminating unnecessary metal frame hardware. Plus, our glass hinges ensure that you avoid strenuous floor spring installations while removing the possibility of rust due to ground moisture. Waterson Commercial Glass Door self-closing hinges can also be easily maintained, as needed, within 30 minutes.
Request For Information
Recent Post
The efficiency and security of any outdoor gate hinge largely on one often overlooked component: the outdoor gate closer. Constructed from robust materials like stainless [...]
In the United States, residential garage fires are alarmingly common, with approximately 6,600 incidents annually, leading to 30 fatalities, over 400 injuries, and property losses [...]
Black gate hinges are more than just functional components; they are a style statement for homes and businesses alike. These hinges not only provide essential [...]