Anti-slam door hardware is designed to prevent doors from slamming shut. It's a great feature in homes especially with children, as they protect little fingers from being caught in doors. There are several types of anti-slam door hardware; the most common are door closers, door stops, and damper hinges.
Door closers control the speed and force of a door, but at the expense of aesthetics — this problem is generally due to the bulky marriage of power output and speed control mechanisms.  Door stops usually engage with a small pin attached to the hinge to hold the door open, but you may not want the hold-open feature at all. Damper hinges work by using hydraulic fluid to control the door's movement, ensuring a smooth and quiet closing. These hinges are available in various sizes, designs, and materials to suit different types of doors and interior styles. Waterson Closer Hinge belongs to the damper hinge category, providing a practical and safe solution for door control, as well as adding aesthetic value to the home.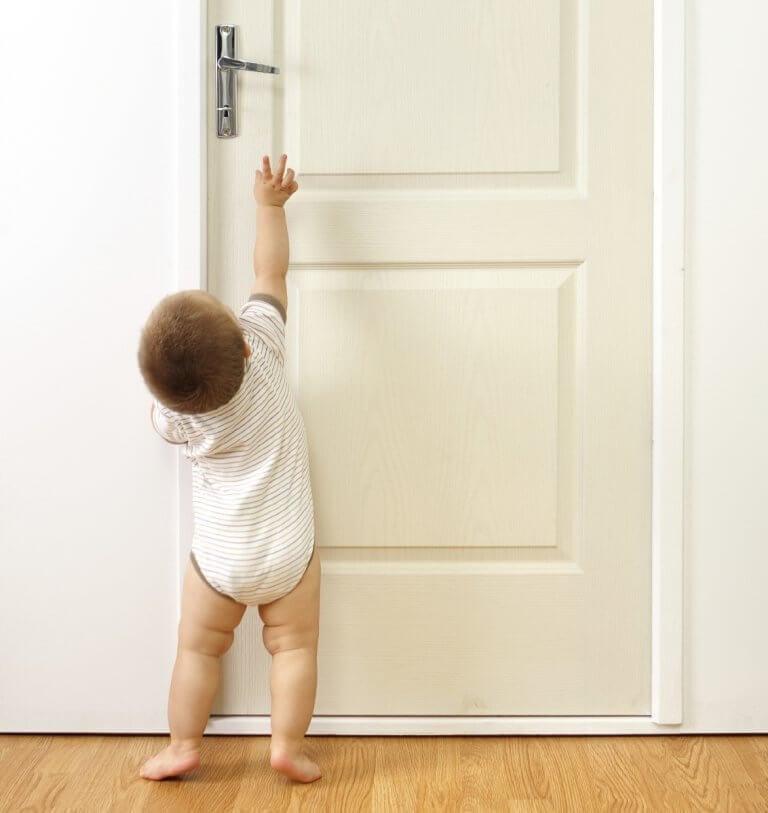 See how Waterson's hinge system prevents slamming.
Which One Is Better? Self-Closing Or Soft Closing Hinge?
Two Effective Anti-Slam Speed Control Solutions
Waterson hinge systems are available in two durable and effective multi-hinge speed control sets:  mechanical and hydraulic hybrid.  Mechanical speed control utilizes friction to provide speed control.  This design is durable and reliable, particularly in harsh exterior environments where outside elements can be challenging.  Hydraulic hybrid, on the other hand, provides smooth, reliable speed control through responsive oil flow.  Our hydraulic hybrid sets are particularly suitable for breezy environments and doors without latches.
Benefits of Anti-slam Door Hinges
Anti-slam door hinges can provide numerous benefits for homeowners and their households. Firstly, they can significantly reduce the amount of noise created when doors are closed, making them an ideal solution for those who prefer a quieter environment. In addition, they can help to prevent damage to both the door and the door frame, which can save homeowners money on costly repairs in the long run. Another key advantage of anti-slam door hinges is increased safety, particularly for small children in the house. These door hinges are designed to prevent doors from slamming shut, which can be dangerous for children who may accidentally trap their fingers in the door. By choosing anti-slam door hinges, homeowners can enjoy many benefits that can enhance the comfort, safety, and security of their homes.
Reduction of noise
Prevention of damage to the door and the door frame
Increased safety for small children
Waterson Heavy Duty Soft Close Door Hinges
Waterson Heavy Duty Gate Hinges combine speed control self-closing technology and traditional hinge mechanism into one attractive component.  Available in full surface and mid-post versions, Waterson Gates Closers are crafted from durable 304, 316, and 316L marine grade stainless steel. These low-maintenance gate closer hinges are easily adjustable to meet ADA & ICC A117.1 requirements for 5lb opening force and closing speed. UL-listed one million cycle times grade-1 testing ensures high quality, secure closing, and reliability in the interior, exterior and harshest environments. See all our features.
Request For Information
Recent Post
The efficiency and security of any outdoor gate hinge largely on one often overlooked component: the outdoor gate closer. Constructed from robust materials like stainless [...]
In the United States, residential garage fires are alarmingly common, with approximately 6,600 incidents annually, leading to 30 fatalities, over 400 injuries, and property losses [...]
Black gate hinges are more than just functional components; they are a style statement for homes and businesses alike. These hinges not only provide essential [...]