Many professional environments including offices, banks, and courtrooms, to name a few, use half doors in high-traffic areas to separate one space from another. Interior gates are a particularly frequent feature of courtrooms for separating the public area from the actual courtroom. Pivot hinges are commonly used on these interior commercial half doors to provide self-closing function and reliable performance.
PIVOT PROS & CONS
Pivot hinges are often installed in high-traffic doorways due to the ease of opening doors in which they are installed. Plus, because the bottom bracket of pivot hinges is anchored to the floor, they can handle moving heavier doors. However, while pivot hinges can be useful in some places, they tend to be rather complicated to install and adjust. Pivot hinges consist of several components from screws to cover plates to brackets and more. This means that after carefully cutting a space for the hinge, installing a typical pivot hinge requires a bit of skill, time and effort. Moreover, after the pivot hinge has been installed on the floor, adjusting can be a bit tricky due to its low location.
THE WATERSON HINGE SOLUTION
Waterson closer hinges solve these pivot problems. Similar in appearance to a traditional hinge, Waterson closers are designed with the spring mechanism and speed control enclosed in the component's body. Therefore they're very easy to install because there is only one item [the hinge] that needs to be fastened to the gate. At the same time, Waterson's state-of-art numerical panel allows users to easily adjust closing tension with only one allen wrench without having to crouch to the floor. The numerical panel also helps users easily choose the best tension setting for their needs. In addition, crafted with stainless steel by investment casting, Waterson hinges are one million cycle tested, heavy-duty, commercial grade and can easily handle the rigors of high-traffic areas.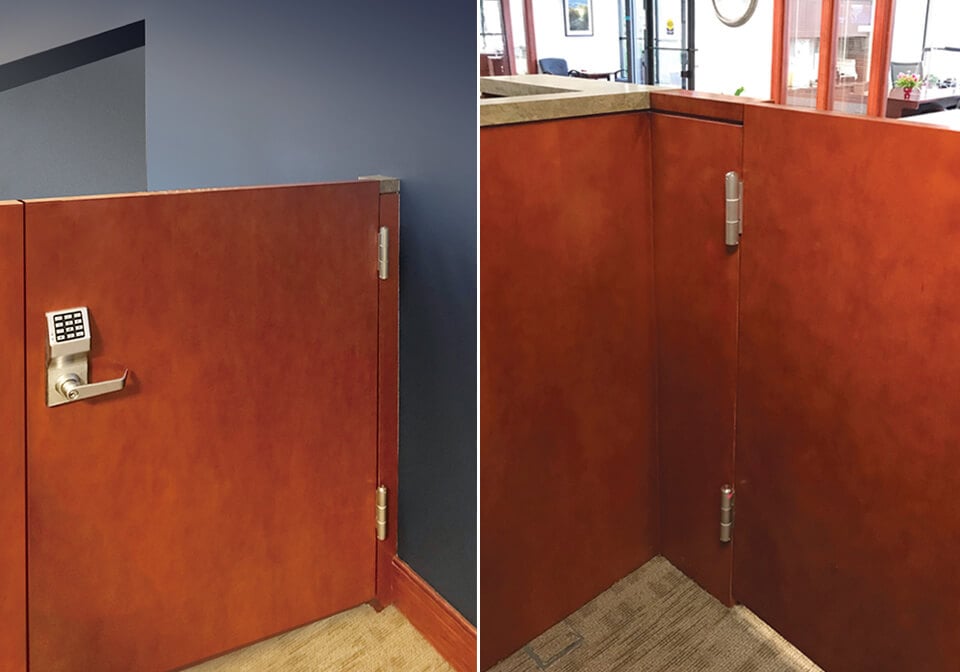 KEY FEATURES
Crafted with 304 / 316 stainless steel
1,000,000 times cycle test (UL certified)
Waterson closer hinges are already installed in Virginia and Washington D.C. courtrooms, as well as near popular beachside hotels and more. Please contact us to learn more about how you can pivot toward Waterson on your interior door projects.
Request For Information
Recent Post
In the United States, residential garage fires are alarmingly common, with approximately 6,600 incidents annually, leading to 30 fatalities, over 400 injuries, and property losses [...]
In the United States, residential garage fires are alarmingly common, with approximately 6,600 incidents annually, leading to 30 fatalities, over 400 injuries, and property losses [...]
Black gate hinges are more than just functional components; they are a style statement for homes and businesses alike. These hinges not only provide essential [...]