In many educational institutions, ensuring the safety and well-being of the students and staff is paramount. A significant part of this safety protocol involves the installation of fire doors, designed to close automatically in the event of a fire, thus preventing the spread of smoke and fire. Waterson heavy-duty hinges provide a robust solution to this concern, aligning with the stringent requirements for school safety.
Self-Closing School Door Application
In many schools, certain doors are designed to close automatically, especially if there's a fire. These are called fire doors. According to the safety guide called NFPA 101 – Life Safety Code, if walls in school hallways are built to block smoke, the doors in those hallways should include a self-closing mechanism. Recognizing this necessity, Waterson self-closing fire-rated door hinges successfully meet the school's concern, as they not only satisfy fire-rated code requirements but also easily close and latch from as little as 20 degrees, which more than satisfies NFPA requirements. This ensures reliable usage, resulting the classroom door safety for schools.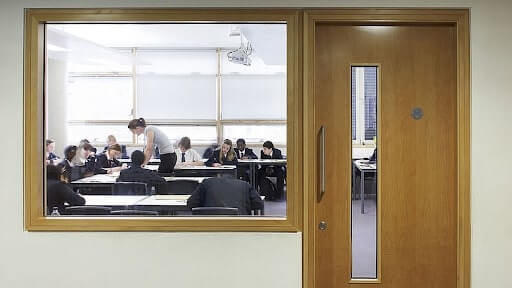 Credit on BBC News
Exceptions to the Rule
Classroom doors in schools typically crowded with students may not require self-closing devices. For instance, in most cases, classroom doors can remain open unless otherwise determined by the school. Waterson heavy-duty hinges also provide this exceptional functionality, including a reliable hold-open feature that effectively stops doors at an angle of 85-90 degrees. By opening the doors to a 90-degree angle, they remain securely positioned with no movement. However, not all school doors necessitate these devices. It's always wise to check the individual guidelines of each school, as they may have different requirements.
Waterson Fire-rated Door Hinges for Classroom Door Safety
Waterson Closer Hinges combine an overhead closer and hinge into one attractive component with optional hold-open and door stop features. Waterson hinges are ideal for commercial openings, gates, and glass doors. These closer hinges are easily installed and adjusted to comply with ADA & ICC A117.1 requirements for opening force and to assure quiet, secure closing. Made with stainless steel, Waterson closer hinges meet NFPA 80 and are UL 3-hour fire-rated, as well as being suitable for both interior and all-weather exterior openings. See all our features.
Request For Information
Recent Post
The efficiency and security of any outdoor gate hinge largely on one often overlooked component: the outdoor gate closer. Constructed from robust materials like stainless [...]
In the United States, residential garage fires are alarmingly common, with approximately 6,600 incidents annually, leading to 30 fatalities, over 400 injuries, and property losses [...]
Black gate hinges are more than just functional components; they are a style statement for homes and businesses alike. These hinges not only provide essential [...]