Waterson self closing door hinges are ideal for a variety of commercial applications, environments and conditions. Choose either Mechanical self-closing or Hydraulic Hybrid soft-close depending upon your particular door closing needs.
CLOSING TYPE
MODEL #
     DOOR TYPE
      USAGE
Mechanical Only

Fire-rated 

Fully Exterior  

Heavy Duty

Courtyard Style

Heavy Latch

High Frequency

Long-term Use

Variable Temperatures

Harsh Environments*

Hydraulic Hybrid

Offices

French Style 

Courtroom Gate

Interior Only

Quiet Areas

Breezy Environments 
* Harsh environment include: acid, chemical, clean room, chlorinated pools, saltwater areas and more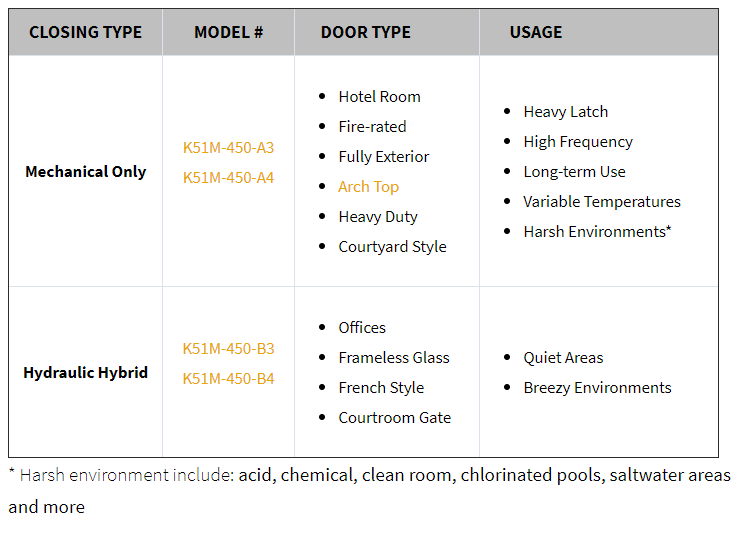 MECHANICAL ONLY SELF-CLOSING
Waterson mechanical hinges are great for high frequency use heavy doors. State-of-the-art heat treated carbide components and EN-certified springs ensure durability, effectiveness, and longevity. Your heavy duty commercial doors will close effectively at a controlled speed every time due to durable and constant braking force. You can simply let the door close on it's own without any hand force to avoid accelerated closing speed. Ideal for hotel rooms, fire rated doors, and arch top openings, to name a few.

HYDRAULIC HYBRID SOFT-CLOSE
On the other hand, if quiet closing, breezy environment and users pushing too hard are chief concerns then you may want to consider choosing the Waterson hydraulic hybrid self-closing hinges due to its oil-controlled dynamic braking. Also an effective closing component, particularly in breezy conditions, Waterson hydraulic hinges respond well sans leakage to sudden wind changes with exceptional quietness. Great for offices, rugged exterior environments as low as -32F, glass doors, and more.

Share This Story, Choose Your Platform!
Companies dedicated to outdoor sports fields undertake a crucial mission: bringing accessible, top-notch fields to communities nationwide. They specialize in installing high-quality soccer and futsal [...]
Modern commercial restroom compartments are commonly constructed using cost-effective, easy-to-install, and fire-resistant drywall material. However, the installation of bathroom stall doors equipped with spring hinges [...]
While there are many materials available for door shims, such as plastic and wood, finding a reliable and sturdy steel door shim can be a [...]