As the Baby Boom generation enters its golden years, the demand for mobility solutions is growing. Over 54 million Americans currently have a disability, and this number is on the rise, as noted by the U.S. Department of Justice. It's in this scenario that Waterson sells their offset swing clear door hinges, designed to provide optimal ADA door swing clearance. These hinges allow doors to swing clear of the opening, providing an unobstructed passage. With their unique pin design, these offset doors are a crucial addition to any mobility-conscious environment.
Due to this population transformation, the Authority Having Jurisdiction (AHJ) has been enforcing American Disability Act (ADA) and Fair Housing Act (FHA) building codes as they relate to those with disabilities. FHA 32" minimum width door clearance is a significant challenge for architects who actively design buildings that are accessible and code compliant. Waterson swing away self-closing hinges not only solve the dreaded clearance problem but also provide a number of key benefits, including more than 33" clearance, greater durability, fire-rated compliance, ADA vertical clearance & 5lbs opening force, sleek design and multiple finish options.
Other swing-away hinges provide 32" clear width when doors are open at 90°, however, Waterson's unique wide-diameter barrel design provides more than 33" clearance. This added clearance is welcome insurance space in the event of installation oversights, as well as ensures that you avoid possible legal ramifications due to not meeting the minimum 32" code compliance.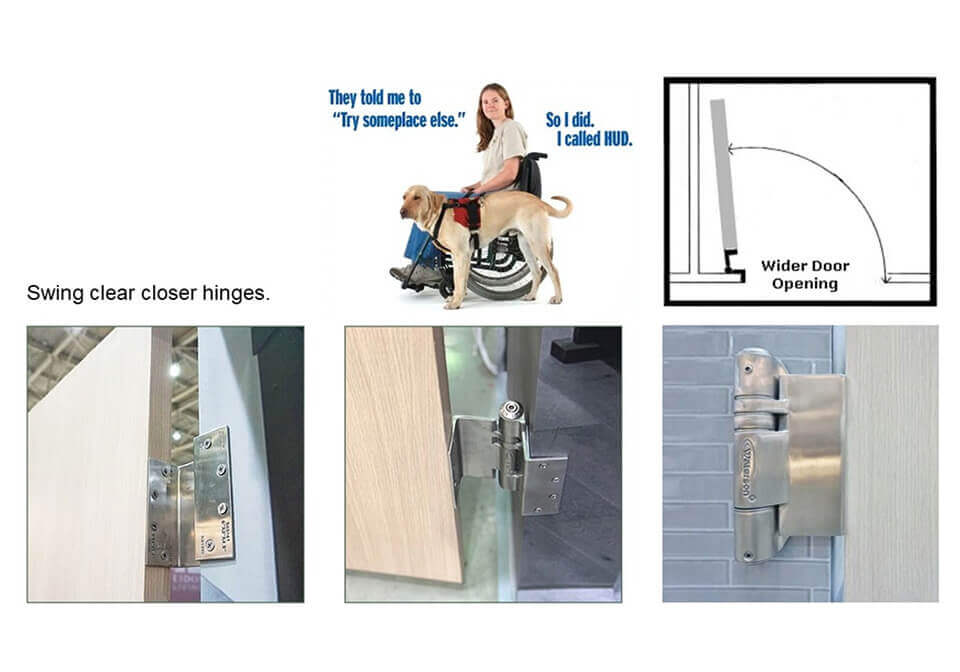 What is ADA Door Swing Clearance?
ADA door swing clearance refers to the amount of unobstructed space required for a door to swing open, ensuring accessibility for individuals with mobility aids, such as wheelchairs. Offset hinges, including those crafted from stainless steel, play a crucial role in this. These hinges, often called swing clear hinges, have a unique design where the hinge barrel is positioned in a way that allows the door to swing completely clear of the doorway. This results in an expandable, more accessible passageway within homes or any other spaces. By employing offset door hinges, you allow the door's radius to fully extend, making the doorway significantly more accessible.
Key Benefits
More than 33" clearance
Heavy-duty durability
Fire-rated hardware
ADA 5lbs opening force.
Sleek stainless-steel design
Multiple finish options
Project Reference
The Skid Row Housing Trust in Los Angeles is embracing "design equity" to ensure that affordable housing projects use attractive, less institutional materials to create homes where people feel valued. The recently completed FLOR 401 Lofts project used Waterson closer hinges, a hybrid hydraulic braking mechanism, and swing clear types to provide unobtrusive, attractive hardware that meets ADA requirements. The project offers 98 studio apartments, support services, and therapeutic community spaces for veterans experiencing homelessness, individuals with low incomes, and special needs. The architect for the project, Koning Eizenburg Architecture, prioritizes the use of materials that the designers would use in their own homes, helping to create an environment where residents feel valued and cared for.
Read more about the project here FLOR 401 Lofts, Los Angeles
Request For Information
Recent Post
In the United States, residential garage fires are alarmingly common, with approximately 6,600 incidents annually, leading to 30 fatalities, over 400 injuries, and property losses [...]
In the United States, residential garage fires are alarmingly common, with approximately 6,600 incidents annually, leading to 30 fatalities, over 400 injuries, and property losses [...]
Black gate hinges are more than just functional components; they are a style statement for homes and businesses alike. These hinges not only provide essential [...]