Gates, blending functionality and aesthetics, come in diverse designs. The square post and round post structures are common, but there are also other innovative gate types. Square posts offer a modern touch with their geometric appeal, while round posts bring a classic feel. Beyond these, gate designs can vary in materials and finishes. However, for gates to function seamlessly and ensure self-closing functionality, the hinge choice is crucial. Heavy-duty pipe gate hinges, especially those with self-closing features, remain the top pick for robust gates, fitting perfectly for both square and round post designs.
Challenges in Selecting the Right Pipe Gate Hinge
When selecting a heavy-duty gate hinge, users often face three core challenges. First is ensuring the hinge can handle the gate's weight, particularly when crafted from dense materials. The next challenge lies in determining its resistance to environmental factors, like rust or general wear. Lastly, the smooth operation, which includes both opening and self-closing actions, poses a consideration. Numerous hinge options exist in the market, but when the criteria include a durable self-closing feature, the choices are scant. This is where the Waterson Heavy Duty Pipe Gate Hinge shines as an optimal solution.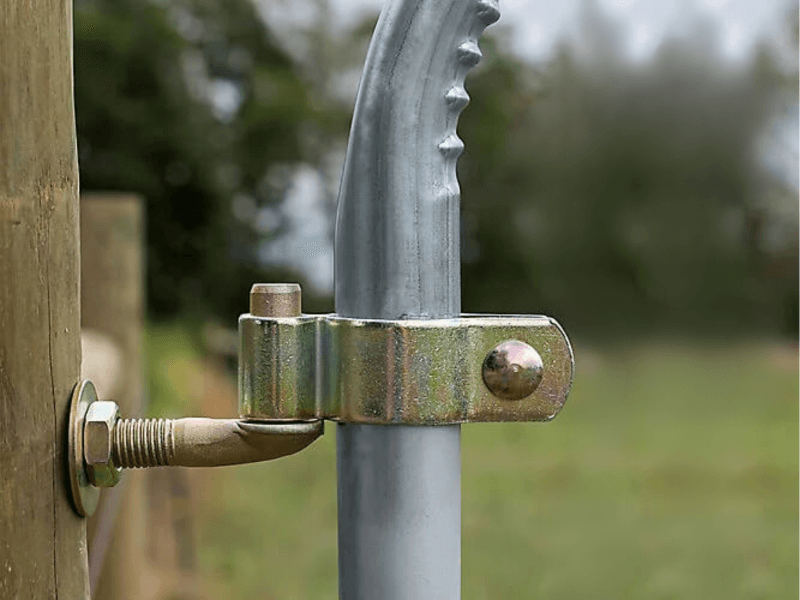 Credit on Powerfields
Bridging the Square and Round Post
In general, the Waterson Heavy Duty Gate Closer has been predominantly utilized in square post applications. However, with the correct installation methods, our design is highly adaptable for round post gates as well. The image below showcases a successful installation case, exemplifying how our product can meet the multifaceted requirements discussed earlier. Whether you have a square or round post gate, Waterson ensures consistency in performance and durability, demonstrating its versatility across gate designs.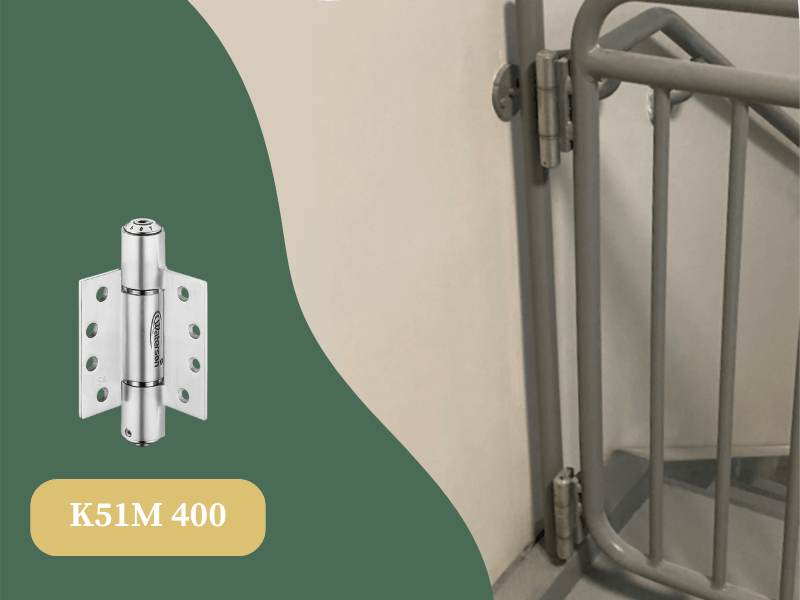 Waterson Heavy Duty Pipe Gate Hinges
Waterson Closer Hinges combine an overhead closer and hinge into one attractive component with optional hold-open and door stop features. Waterson hinges are ideal for commercial openings, gates, and glass doors. These closer hinges are easily installed and adjusted to comply with ADA & ICC A117.1 requirements for opening force and to assure quiet, secure closing. Made with stainless steel, Waterson closer hinges meet NFPA 80 and are UL 3-hour fire-rated, as well as being suitable for both interior and all-weather exterior openings. See all our features.
Request For Information
Recent Post
Double doors are commonly used in various places, such as commercial buildings, schools, hospitals, and large public spaces. These door closers are often used to [...]
Gates, blending functionality and aesthetics, come in diverse designs. The square post and round post structures are common, but there are also other innovative gate [...]
In a factory setting, safety and functionality are on the choice of components. One critical selection is the gate hinge, a small but vital part [...]