In a factory setting, safety and functionality are on the choice of components. One critical selection is the gate hinge, a small but vital part of maintaining a secure manufacturing environment. For demanding environments and harsh conditions, industrial heavy-duty gate hinges with a self-closing mechanism are the top choice. Engineered to endure, they provide the ultimate solution for lasting performance.
Understanding Gate Requirements in Industrial Places
According to ISO 14122-3 standards, gates designed for people's passage must be self-closing, achieved through mechanisms like springs or gravity. These gates remain closed but are not locked, allowing easy passage when needed, and they open smoothly onto a platform or floor to facilitate efficient movement. Moreover, they securely close against a stop to prevent users from pushing through and potentially falling, prioritizing user safety and gate functionality.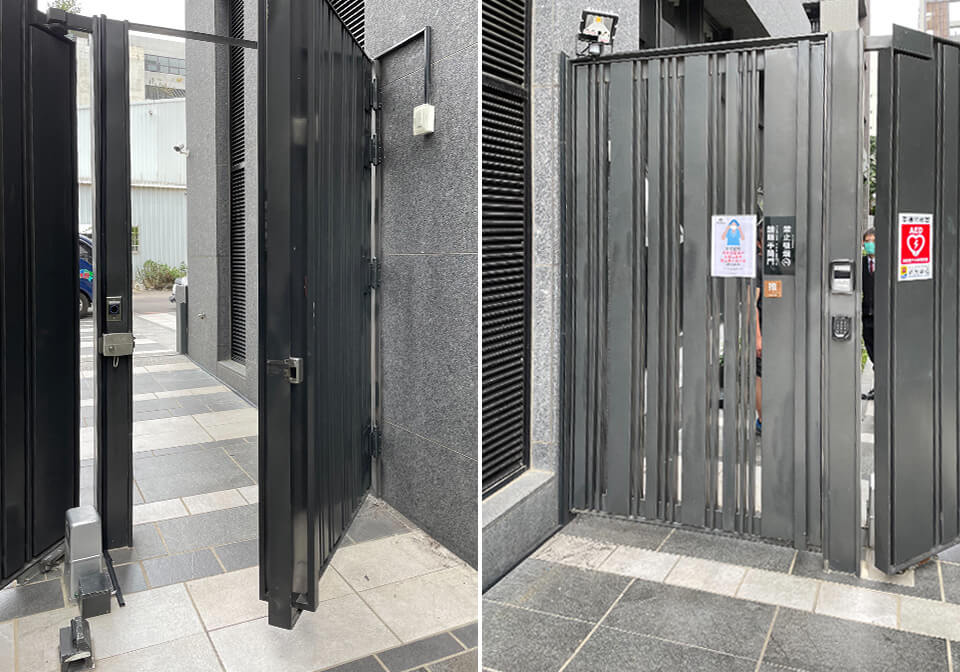 In addition to these design criteria, the gates and their components must be engineered to withstand heavy loads and continuous use, especially in industrial environments where people frequently open and close these gates. Furthermore, in settings where corrosive chemicals are present, the materials used for the gates and their hinges are required to be resistant to corrosion and deterioration, ensuring that the safety and functionality of these gates are maintained under the most demanding conditions.
Fulfilling Requirements with Industrial Gate Hinges
Self-closing heavy-duty gate hinges are precision-engineered to satisfy the rigorous demands of industrial environments. Designed with adjustable closing speed control, these hinges ensure that gates close securely and smoothly, allowing for safe and easy passage of personnel. The adjustable heavy duty gate hinges can stop gates at specific angles, such as 90º and 120º, preventing the door or gate from swinging too far open and falling or potentially hitting a person or an object with significant force. Automatically closing gates and doors contribute to creating a safer environment by ensuring proper security measures.

Boosting Durability Through Stainless Steel Construction
Crafted from robust materials like stainless steel, industrial heavy-duty gate hinges are selected for their versatility and reliability in supporting various types and weights of gates. To improve durability, these heavy-duty stainless steel hinges are often coated with corrosion-resistant materials, allowing them to withstand harsh conditions caused by corrosive chemicals in factories or the constant wear and tear in industrial settings. Key features may include self-lubricating bearings for smooth operation, adjustable tension for precise control, and tamper-proof designs for added security.
Waterson Industrial Heavy Duty Gate Hinges
Waterson Closer Hinges combine an overhead closer and hinge into one attractive component with optional hold-open and door stop features. Waterson hinges are ideal for commercial openings, gates, and glass doors. These closer hinges are easily installed and adjusted to comply with ADA & ICC A117.1 requirements for opening force and to assure quiet, secure closing. Made with stainless steel, Waterson closer hinges meet NFPA 80 and are UL 3-hour fire-rated, as well as being suitable for both interior and all-weather exterior openings. See all our features.
Request For Information
Recent Post
Double doors are commonly used in various places, such as commercial buildings, schools, hospitals, and large public spaces. These door closers are often used to [...]
Gates, blending functionality and aesthetics, come in diverse designs. The square post and round post structures are common, but there are also other innovative gate [...]
In a factory setting, safety and functionality are on the choice of components. One critical selection is the gate hinge, a small but vital part [...]