Doors need hinges for smooth maneuvering when opening them inwards and outwards. Spring hinges are designed to help door joints to close automatically. Currently, the market has numerous door closers making it hard to find an ideal one. Here are some of how Waterson spring door closer hinges contribute to the wellbeing of building occupants.
Aesthetics
For many architectural doors, "form is the function," and hardware must enhance (or at least not detract from) the appearance of the doorway. Waterson spring door closer hinges combine door closers, spring hinges, and an optional hold open feature into one attractive & unobtrusive component.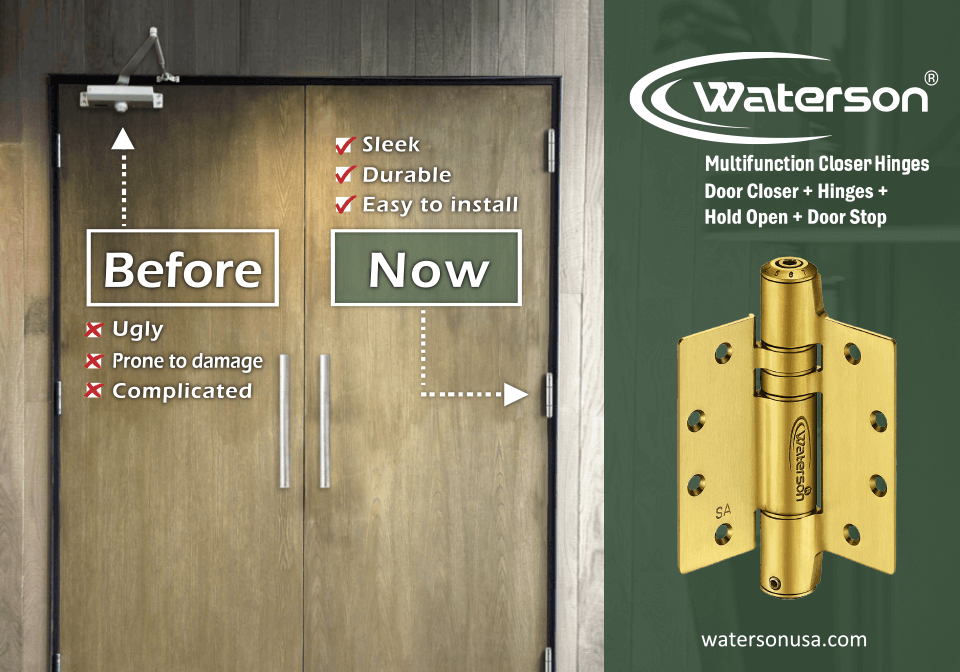 Hygiene
Hygiene has taken on new urgency as we learn to design and operate buildings that simplify and improve cleanliness. It is prudent to reduce the need for touch door and gate hardware surfaces that have the potential to transmit pathogens. About half of incidents requiring someone to touch a door are occasioned by closing the door. Using Waterson spring door closer hinges as a hands-free way to shut doors is a strategy deserving increased consideration.
Acoustics
Closers prevent the loud and startling noise of slamming doors. Noise control contributes to the comfort and well-being of building occupants. Using our spring door closer hinges can control the closing speed and close the door softly.
Convenience
Issues of hygiene aside, closing a door manually is inconvenient if hands are otherwise engaged in carrying packages, attending to children, operating a hand-held device, or whatnot. Closing can also be challenging to individuals with restricted use of their forelimbs.
Waterson With Fastidious Quality
Waterson Closer Hinges combine an overhead closer and hinge into one attractive component with optional hold open and door stop features. Waterson hinges are ideal for commercial openings, gates, and glass doors. These closer hinges are easily installed and adjusted to comply with ADA & ICC A117.1 requirements for opening force and to assure quiet, secure closing. Made with stainless steel, Waterson closer hinges meet NFPA 80 and are UL 3-hour fire-rated, as well as being suitable for both interior and all-weather exterior openings. See all our features.
Request For Information
Recent Post
Gates, blending functionality and aesthetics, come in diverse designs. The square post and round post structures are common, but there are also other innovative gate [...]
In a factory setting, safety and functionality are on the choice of components. One critical selection is the gate hinge, a small but vital part [...]
Optimizing the performance of commercial spaces is crucial in ensuring customer satisfaction and success. In this regard, the adjustment of heavy-duty self-closing hinges plays a [...]