A defining feature of Tuscan, Mediterranean, and French country architecture, arched top doors, has recently gained a great deal of storefront door popularity due to their elegance and aesthetics. Many companies around the world have been choosing arched top as their storefront choice. Balmain Fashion Company, the French luxury clothing, and perfume leader chose arched top doors for their flagship Moscow store in order to capture an aesthetic of traditional French culture and quality.
However, finding compatible and attractive arched top door closing systems has been a challenge — until now. Waterson door closer hinges are the ideal solution for all arched door closing system needs. Easy to install and fully speed adjustable depending on user needs, Waterson closer hinges combine state of the art weather-effective closure mechanisms with a simple design that can be incorporated unobtrusively with elegant storefront doors. ( Read our seven renovative features. )
Waterson Closer Hinges effectively marry the door closer and spring hinges into one exceptional product. Our revolutionary hinges provide a speed control mechanism with spring force for high-functioning self closing. Waterson Closer Hinges meet ADA and BFA codes related to clearance, force, and closure speed.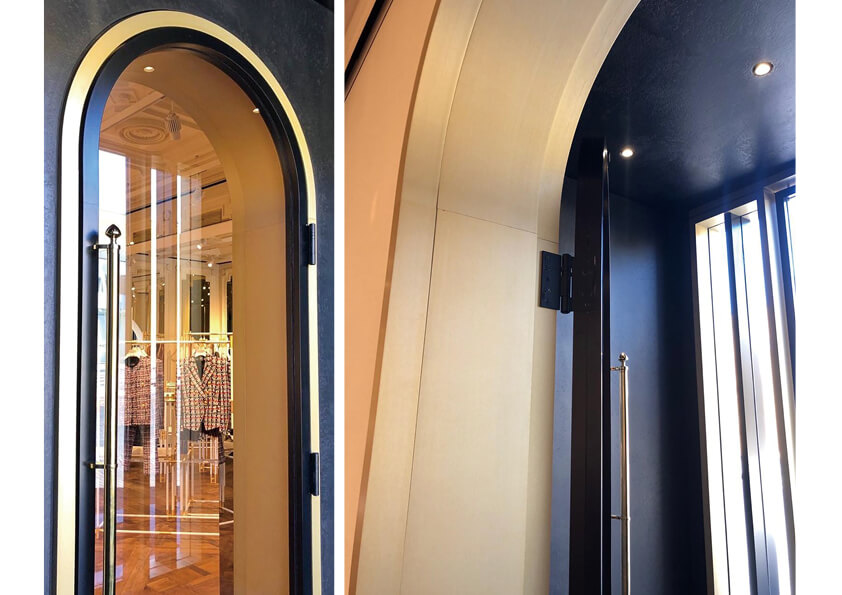 Share This Story, Choose Your Platform!