According to NFPA 80, for optimal safety fire-rated doors should be kept closed in order to distinguish the possible spread of fire and smoke. Therefore it is important to use the most efficient and effective door closing mechanisms. However, choosing a reliable door closer is never easy, and buyers are particularly cautious when it comes to fire doors. The following key factors play a significant role in the fire-rated door closer decision-making process:
Weight, Size & Application

Indoor / Outdoor

Usage Frequency

Opening Force

ADA Clearance
Weight, Size & Application
The first factors to consider when choosing an appropriate door closer for fire-rated doors are weight, size, and application. Various door sizes and weights require different closing forces in order to effectively close. This can be a rather complicated calculation when trying to use a traditional door closer due to all of the options and considerations involved.
Traditional door closers come in three different mount types – regular arm, parallel-arm, and top jamb. With each type, one must know precisely the correct weight, size, swing type, and usage volume. This can be complicated due to there being six different closer sizes. Combining mount types with different closer sizes creates a dizzying number of choices.
On the other hand, a Waterson hinge system satisfies the above variables using pure mechanical and hydraulic hybrid mechanisms in one simple and effective design. Every Waterson hinge system is crafted to be suitable for most door sizes while being in-swing and out-swing compatible. Waterson hinges are also left and right side interchangeable, so choosing and stocking them is easy.
Indoor / Outdoor
Door closers installed on fire-rated doors that face inside and out tend to be susceptible to moisture from the outside. This can be problematic for traditional top-mounted door closers especially, as bulky closer arms can be affected by rust and become ineffective. At the same time, heavy winds can damage a spindly, pivoting arm, as well as cause mechanism-damaging hydraulic shock.
By combining the closing mechanism inside our patented barrel, Waterson hinges reduce exposure issues that can easily affect traditional closers. Made with stainless steel, this fully enclosed durable design ensures longevity and effective performance that will be unaffected by outside elements.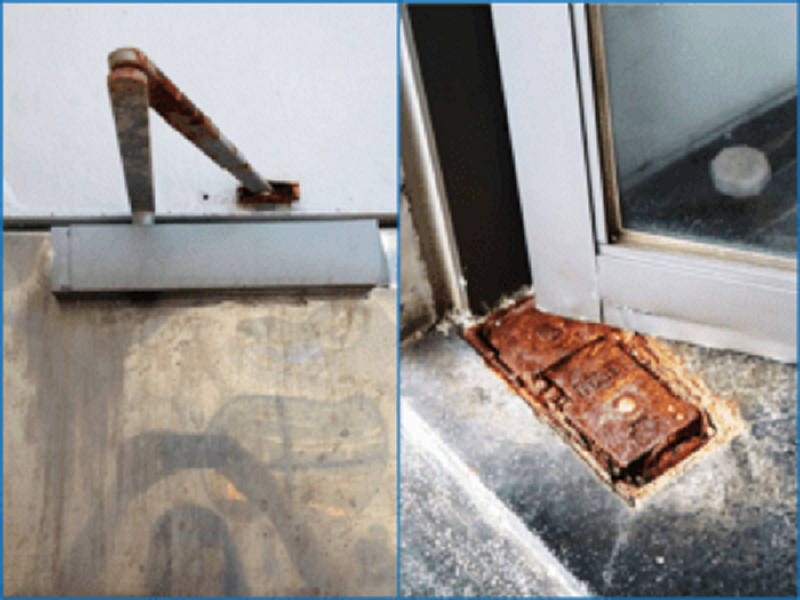 Usage Frequency
Depending on commercial area usage requirements, door opening and closing frequency can vary significantly. ANSI A156.17 requirements for self-closing hinges classifies durability standards in terms of cycle-time grades, whereby Grade 1 requires 1,000,000 cycles, Grade 2 requires 500,000 and Grade 3 requires 250,000. Therefore Grade 1 indicates the highest quality certification for closer hinges followed by Grade 2 and 3, respectively. Waterson hinges not only achieve Grade 1 status, but they do so with little wear.
Opening Force
With Waterson hinges, you can open doors of any weight with as little as 5lbs of force. Where traditional door closers generate much resistance upon opening, Waterson hinged doors open effortlessly. ADA compliant, Waterson hinges are suitable for high traffic commercial fire-rated doors, in addition to heavy hotel room doors and senior communities
ADA Clearance
National and local ADA building standards may have different requirements for fire door closers. In order to meet this ADA specification, no door closer is allowed to be installed within the 78" minimum clearance space. Commercial fire-rated doors are typically 80″ or 84" high. With an 80" door it is essentially impossible to install a top door closer and meet the 78" minimum clearance requirement. This is no problem for Waterson hinges as they perform like a door closer without the bulky extra parts, so meeting the clearance specification is very easy.
Choose Waterson
Waterson Closer Hinge Systems combine door closers, spring hinges, and an optional hold open feature into one attractive & unobtrusive component that is ideal for commercial swing, gate, and glass doors. Our closer hinges are easily installed and adjusted to comply with ADA & ICC A117.1 requirements for opening force and to assure quiet, secure closing. Made with stainless steel, Waterson closer hinges meet NFPA 80 and are UL 3-hour fire-rated, as well as suitable for both interior and all-weather exterior openings.
More and more hotels and commercial projects around the world are choosing Waterson Closer Hinge for their fire-rated door closing needs. For more information on how Waterson can help make your fire-rated doors more safe and effective, contact us by email at [email protected] or by phone at 770.343.2788
Share This Story, Choose Your Platform!