End Slamming With Spring Loaded Door Hinges
The spring loaded door hinge slamming solution
Door slamming is inevitable when using most spring-loaded hinges as they typically do not include a viable internal speed control unit. On the other hand, door closers provide smoother performance, but at the expense of aesthetics due to their bulky design. Waterson Closer Hinge systems solve these two issues by combining fluid motion, space-savings, and elegance.
Explore Waterson Projects .
5o Leo, Boston's latest luxury residential building designed by EMBARC Architects.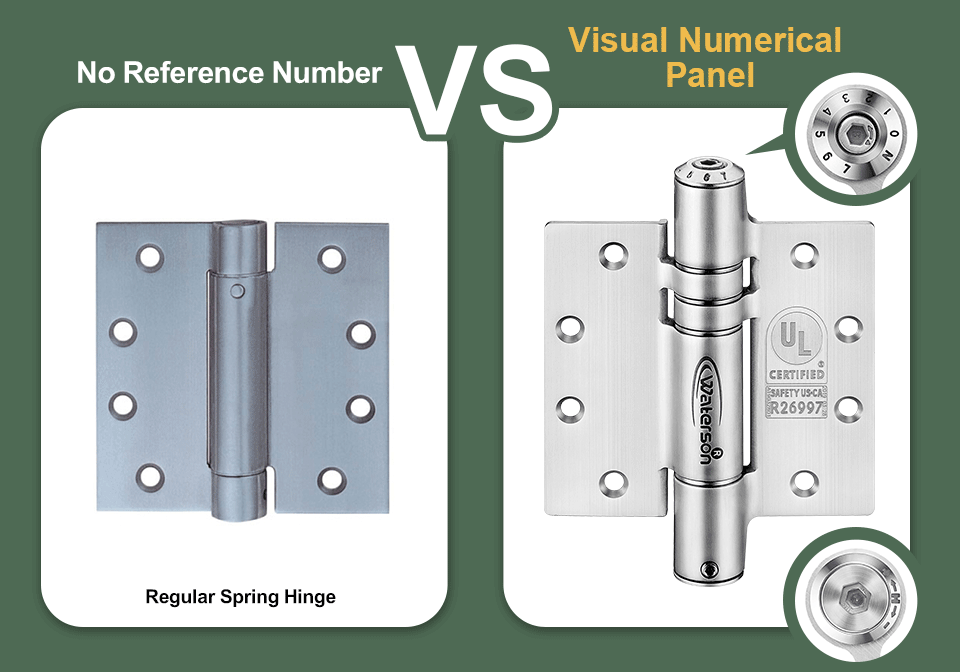 Two Effective Speed Control Solutions
Waterson hinge systems are available in two durable and effective multi-hinge speed control sets: mechanical and hydraulic hybrid. Mechanical speed control utilizes friction to provide speed control. This design is durable and reliable, particularly in harsh exterior environments where outside elements can be challenging. Hydraulic hybrid, on the other hand, provides smooth, reliable speed control through responsive oil flow. Our hydraulic hybrid sets are particularly suitable for breezy environments and doors without latches.
Finishes available. Meet ANSI/BHMA Finish codes.
Finishes contribute to both the requirements of aesthetics and durability. Some hinges use regular paintings or simply raw metal as the standard finishes. With Waterson adjustable spring-loaded hinges, you can choose a wide range of colors from Stainless Satin-Brushed(US32D/630), Black(US19/631), Dark Satin Bronze(US10B/695), Satin Brass (US4/731), or any color you prefer for customized design.
Waterson PVD Gold finish closely resembles the Satin Brass finish; the base material is stainless steel, so it's coded as its closest finish: US4/633. The stainless steel materials and special coating ensure both satisfying visuals and lasting reliability.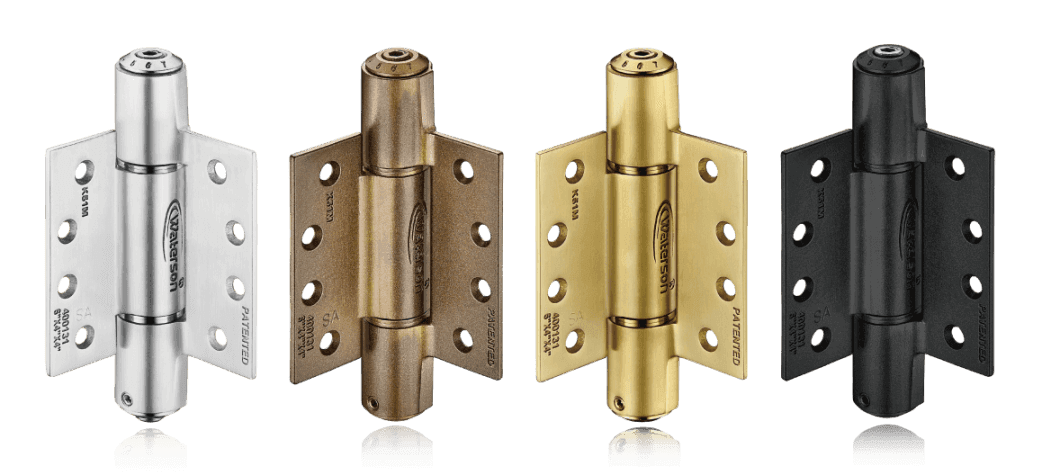 Share This Story, Choose Your Platform!
Gates, blending functionality and aesthetics, come in diverse designs. The square post and round post structures are common, but there are also other innovative gate [...]
In a factory setting, safety and functionality are on the choice of components. One critical selection is the gate hinge, a small but vital part [...]
Optimizing the performance of commercial spaces is crucial in ensuring customer satisfaction and success. In this regard, the adjustment of heavy-duty self-closing hinges plays a [...]