Choose The Best Spring Loaded Door Hinges – An End To Slamming
How to stop spring loaded door hinges from slamming
With some basic spring loaded hinge options, door slamming is destined to happen, as there's no viable internal speed control unit. Additionally, door closers provide smoother performance, but at the expense of aesthetics — this problem is generally due to the bulky marriage of power output and speed control mechanisms. Waterson Closer Hinge systems solve these two issues by combining fluid motion, space-saving and elegance.
How to prevent spring loaded door hinges from wearing out

Limited adjustability, insufficient loading capacity, and inappropriate settings are the top three culprits for the worn-out hinges. So, to keep hinges from being worn out, you need to find spring-loaded hinges with flexible adjustability, competent capacity for the door weight and avoid setting the hinges to its maximum, as the maximum setup would overstretch the spring systems quickly.
Spring-loaded hinges with rare sizes, like 5-inch or 6-inch, get worn out fast for its simple design(only coil spring inside)and the overwhelming door weight (mostly over 200 pounds).
After constant rotation on the heavy door or frequent spring hinge adjustment, the metal spring and tension pin soon lose its elasticity and resilience. This is when uncontrollable closing and banging slamming begins.

Dual systems (spring and hydraulic) improve the durability of spring by sharing the stress.
For example, the Waterson 5-inch adjustable hinge adopts two controlling systems:
1) hydraulic buffer
2) mechanical buffer
The double systems absorb excessive stress and loading, so the spring durability is extended.
In fact,some self-closing hinges even boast of one million cycles tested with ANSI A156.17 Grade 1. Read more for our Dual Systems.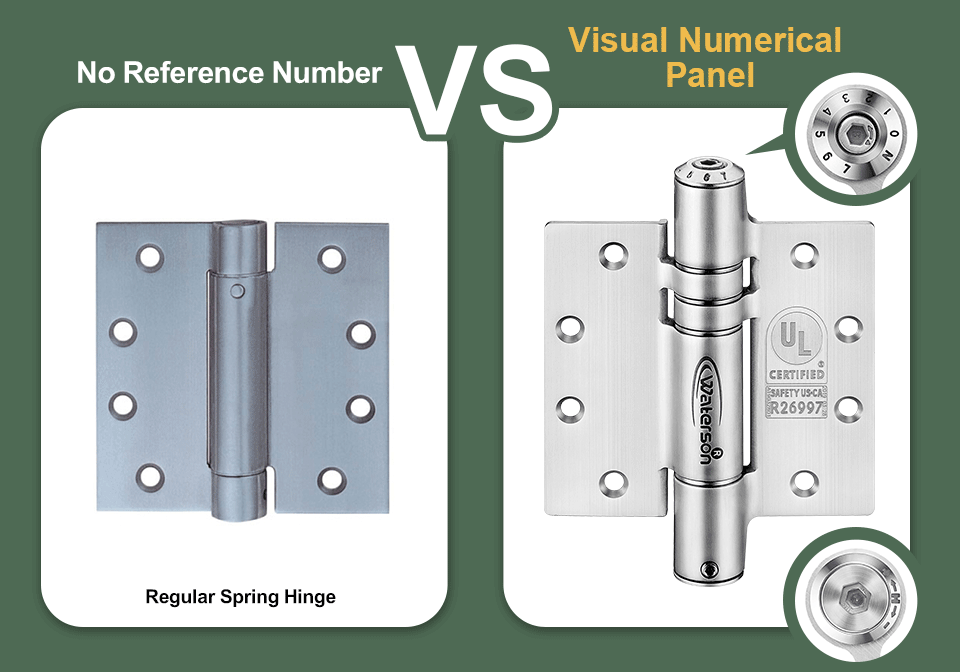 Finishes available. Meet ANSI/BHMA Finish codes.
5-inch closer hinges are scarce, so are their finishes. Finishes contribute to both the requirements of aesthetics and durability. Some hinges use regular paintings or simply raw metal as the standard finishes. With Waterson adjustable hinge, you can choose a wide range of colors from Stainless Satin-Brushed(US32D/630), Black(US19/631), Dark Satin Bronze(US10B/695), Satin Brass (US4/731), or any color you prefer for customized design.
Waterson PVD Gold finish closely resembles the Satin Brass finish; the base material is stainless steel, so it's coded as its closest finish: US4/633.The stainless steel materials and special coating ensure both satisfying visuals and lasting reliability.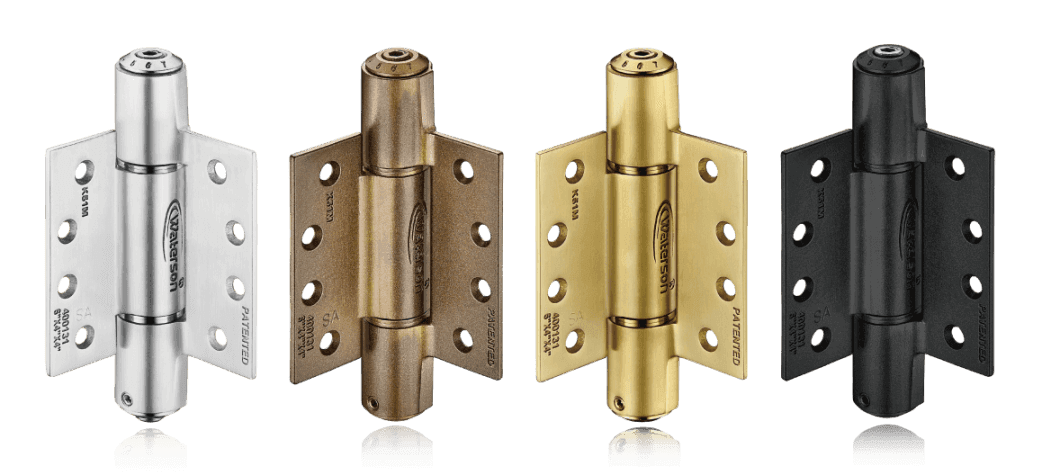 Share This Story, Choose Your Platform!
When most industry people think about Waterson hinges, they think about commercial projects due to Waterson's well-known durability. While this is certainly true, Waterson also [...]
Door-stop and Hold-open features are incredibly beneficial in a variety of situations.  A door stop is a useful feature in preventing doors from opening too [...]
What is a Waterson Garage Door Closer Hinge? The hinges are some of the important parts of any garage door. They keep the garage [...]